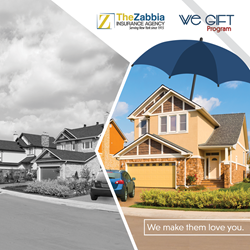 What heroes they (real estate professionals) are, working with us to make the home buying process painless for each customer!
MASSAPEQUA, N.Y. (PRWEB) December 11, 2018
The Realty Partnership Program offered by The Zabbia Insurance Agency was launched last April, 2018, as a way to connect local real estate professionals to top homeowners insurance coverage experts. The goal was to not only create a strong network of highly capable professionals, but to ultimately offer the end home buyer a more efficient, educated, personalized, and, in the words of Robert Zabbia, Agency Principal of The Zabbia Insurance Agency, "Definitely a more pleasant home buying process."
That level of excellence and support recently led Robert Zabbia to receive the prestigious Affiliate of the Year award, presented by the Long Island Board of Realtors® (LIBOR) at its Installation Gala last November 20th. "We are honored by this meaningful recognition and thrilled to continue to work closely with local Realtors® into 2019 and beyond," he added.
Zabbia elaborates on his comments by explaining that the Realty Partnership Program includes the gifting of high-end home items to all prospective homebuyers who receive a homeowners policy quote from his seasoned team, on behalf of the real estate professional who led them to The Zabbia Insurance Agency. "What heroes they are, working with us to make the home buying process painless for each customer!" admitted Robert Zabbia.
Gifts such as wine glasses, wine sets in leather cases, slate coasters and bamboo cutting and serving boards are carefully customized to fit each quoted prospective homebuyer's profile and name, making them everlasting and meaningful to a family.
Desirable as those might sound, The Zabbia Insurance Agency's current customers agree that the biggest benefit they receive in working with a real estate professional connected to this (Zabbia) Agency, is the ability to count on 25+ years of solid insurance coverage experience, and their level of professionalism. "The Zabbia Insurance Agency is a very professional organization. They always take care of its customers' needs. I've been with Zabbia for many years and wouldn't think of using another insurance agent," declares James O'Bray, a client since 1997 in Seaford, NY.
Real estate experts interested in entering the Program are encouraged to contact Robert Zabbia promptly at 516-799-6900, as the Agency is giving away a quarterly Grand Prize and nominating a Real Estate Professional of the Quarter at the end of this month. More details about the Program are available at http://www.zabbiaagency.com/we-gift.
Homebuyers looking to suggest their real estate professionals to the Program or searching for expert advice regarding their homeowners or any other insurance product, may also contact the Agency directly.
The Zabbia Insurance Agency is located at 847 Broadway, Suite 101, N. Massapequa NY 11758.