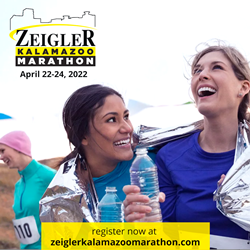 The vision for this event is to really build a healthy culture in Kalamazoo for everybody. It really is an event that celebrates coming together and moving and creating fitness opportunities.
KALAMAZOO, Mich. (PRWEB) February 22, 2022
Zeigler Kalamazoo Marathon today announced its full course details of its main event, the Zeigler Half Marathon, taking place on Sunday, April 24, 2022 at 7:30a.m. Course maps for the 10k Run and 5k Run and Walk were also announced. Formerly known as the Kalamazoo Marathon and Borgess Run for the Health of It, the Zeigler Kalamazoo Marathon will return for a 3-day event, after a 2-year in-person hiatus due to COVID – going virtual in 2020 and canceled in 2021.
"There's so much excitement around the races, showing up on a Sunday with thousands of other people there, it doesn't matter if you're running the half marathon, the 1 mile race, or the 5k– it's still a lot of fun. My daughter has run and won the 5k back to back, my wife's run it, and so has my son–it has become a family affair for us. And because we are very aware of this race's legacy in Kalamazoo, it was very important for us to help bring it back for the community," said Aaron J. Zeigler, president and owner of Zeigler Auto Group, the event's title sponsor.
Zeigler Kalamazoo Marathon's main race event: the Zeigler Half Marathon, will start and finish at the Stryker Finish Festival on Water St and Edwards Street.
Kalamazoo College and Western Michigan University are located near mile 2 of the route, with the Zeigler Zone near mile 6, the Bacon Station near mile 10, the Living Strong on Long Road Mile by the 11th, and finally heading towards Burdick and the Kalamazoo Mall for the finish line at Stryker Finish Festival.
The 3-day event will kick off Friday, April 22 with a free Kid's 1k Fun Run and Expo at Mayors Riverfont, packet pickup will be the day before at Gazelle Sports. The event's main Sponsor Expo is also scheduled for Saturday, April 23, 2022.
"The vision for this event is to really build a healthy culture in Kalamazoo for everybody. It really is an event that celebrates coming together and moving and creating fitness opportunities, not just for that day or that weekend, but actually leading up to it and continuing after for the rest of the year. The essence of this event is really about community health," said Gazelle Sports co-owner Chris Lampen-Crowell.
Schedule of Events
Thursday, April 21, TBD - Kid's Fun Packet Pick-up at Gazelle Sports
Friday, April 22, 6:00p.m. - Kid's 1k Fun Run & Kid's Expo at Mayors Riverfront Park
Saturday, April 23, 11:00a.m to 4:00 p.m. - Race Packet Pickup & Main Sponsor Race Expo in Downtown Kalamazoo
Sunday, April 24 - Zeigler Kalamazoo Half Marathon starts at 7:30 am at the Stryker Finish Festival. Event day will also feature 10k, 5k Run & 5k Walk
The Zeigler Kalamazoo Marathon also previously announced that this year's event will not include a full marathon due to safety and time constraints. However, with Zeigler Auto Group as its new sponsor, the full marathon event will return ​​in 2023. Additional sponsors for this year's event include Ascension Borgess, Greenleaf Hospitality, Imperial Beverage, Stryker, Pfizer, AVB, Discover Kalamazoo and Gazelle Sports.
Sponsorship and volunteer opportunities are still available. If you would like more information, please contact race director Carrie Drake at (269) 350-4828.
Register now:
Zeigler Kalamazoo Half Marathon
Zeigler Kalamazoo 10k Run
Zeigler Kalamazoo 5k Run
Zeigler Kalamazoo 5k Walk
Kalamazoo Kid's Fun Run 1k
ABOUT ZEIGLER AUTOMOTIVE GROUP
Zeigler Automotive Group is one of the largest privately-owned dealer groups in the U.S. with 78 franchises across 35 locations in Wisconsin, Illinois, Indiana, and Michigan. Vehicle brands represented include all of the domestic and the majority of the imported manufacturers.
Besides its extensive automotive portfolio, the organization owns and operates Zeigler Motorsports, an 85,000-square-foot motorsports dealership and action park, offering 19 different powersports brands, plus its own onsite restaurant: Trak Houz Bar & Grill. Additionally, Zeigler Motorsports houses the Elevate Leadership & Team Building Academy, an executive training company.
The Kalamazoo-based dealer group also owns and operates Zeigler Pre-Owned of Chicago, a Carquest Auto Parts store, three Byrider franchises, three finance companies, several insurance firms, and a leasing firm.
Founded in 1975, the organization employs over 2,300 people, ranking among the top 1% of automotive dealers in the nation with estimated annual sales of $2.2 billion for 2022. The family-owned and operated company is well known for its commitment to both customer service and employee satisfaction. Zeigler is regularly recognized as one of the Best and Brightest Companies to Work for in the Nation, also earning similar accolades in Chicago and Michigan.