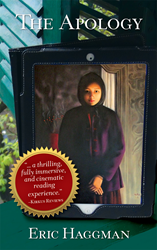 It's been my dream to write 'The Apology' and to someday see it turned into a movie and I'm proud to give a platform to other authors who share a similar vision.
Boston (PRWEB) March 21, 2017
"The Apology" author Eric Haggman announced the launch of a new author spotlight series, "Five Questions With…" on his blog, The Author & The Muse. The series will feature a new author in each installment, and is designed to showcase insights on writing tips and creative inspiration from authors around the world. Haggman's "Five Questions With…" will put specific focus on the growing trend of books being adapted into feature films—especially from independent authors—and on the ways in which the film industry inspires writers, and vice versa.
Haggman's first book, "The Apology", has gained tremendous momentum in its first year including a rave review from Kirkus Reviews which noted that the book adds up to a "…thrilling, fully immersive, and cinematic reading experience."
As an award winning creative director who has produced numerous commercials over the past 20 years, Haggman's experience has informed a fast-paced, cinematic writing style that has left many readers feeling that his work would be naturally adapted for the silver screen. He also credits a love of travel and history as inspiration for writing his first book. Recently, Haggman, aided by his wife and business partner Emily, has also adapted the book into a screenplay, which saw promising interest when it made the rounds at this year's Sundance Film Festival.
"Over the years, we've seen the recognition of indie authors and self-publishers grow significantly. Many have become bestselling authors and some have even had their work adapted into feature films, such as 'The Martian' by Andy Weir," said Haggman. "It's been my dream to write 'The Apology' and to someday see it turned into a movie and I'm proud to give a platform to other authors who share a similar vision."
"Five Questions With…" premiers with a feature from Haggman and the first author spotlight is with Gerry Stewart, author of the "Credible Justice" series. New submissions are now being accepted. For additional information, please contact theapology(at)haggman(dot)com.
About "The Apology":
A corrupt government, a manipulated press, an evil creative arm, and a terrible secret could decide the fate of a country. Filmmaker Christian Lindstrom returns to Vietnam to shoot tourism commercials, only to confront the agony of his past and the power of the Asian underworld to control political events—including the creation and the whitewashing of Japan's history itself. For producer Nachi Tanaka, it is the story of the shameful sins of the father coming back to hurt and haunt her family generations later. For the Japanese government, it is a coup d'état engineered by powerful business interests with the Japanese mafia -- the Yakuza -- doing their murderous bidding. To learn more about the book, please see the trailer or visit http://www.theapologybook.com.
About Eric Haggman:
A Milwaukee, Wisconsin native, Eric graduated from Colgate University. He lives on the North Shore of Boston, with his wife, Emily and their Ragdoll cat, Shanghai, who thinks he's a dog.
###
Media Contact:
Nick Brown
Matter Communications
theapology(at)matternow(dot)com
(971) 245-4001