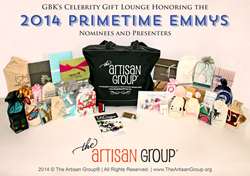 Our team has curated a diverse collection of handcrafted goods... truly worthy of this glamorous gifting suite event.
Beverly Hills, CA (PRWEB) August 12, 2014
The Artisan Group® (http://www.theartisangroup.org), a by-invitation-only collective of over 1,000 business artisans specializing in handcrafted goods, will have its members' products on display and in celebrity gift bags at GBK's Gift Lounge honoring the Emmy Nominees & Presenters. The by-invitation-only gift lounge takes place August 22-23 at an exclusive location in Beverly Hills, California.
The Artisan Group will showcase an array of member-designed and created products for attendees to enjoy. It will also be gifting its distinctive black swag bag, packed to the brim with handcrafted earrings, bracelets, necklaces, hair accessories, designer stationery, fine art photography prints, pet accessories, bath and spa products, skincare products, a sewn coffee cozy, crocheted cotton washcloths, hand-stamped silverware, and a variety of nail polishes.
The gift bag this year is valued at nearly $900.00. The Artisan Group will also be gifting GBK's 2014 charity beneficiary, to be announced in the coming days.
Remarked The Artisan Group founder Valerie Guerrero, "The Artisan Group is thrilled to be a Platinum Sponsor at GBK's pre-Emmys Gift Lounge, our fourth appearance at this event. Our team has curated a diverse collection of handcrafted goods that are truly worthy of this glamorous gifting suite event. We can't wait to show it all off."
Participating members displaying their products and gifting the celebrities at GBK's Luxury Gift Lounge honoring the 2014 Primetime Emmys Nominees and Presenters include Jennifer Racette of Alison Julien Collection; Andrea Wagner of Andrea Designs; Ivy Ho of AngsanaSeeds Photography; Caron Williams of Bubbles Bath Boutique; Camilee Tout of Camilee Designs; Catherine McDonald of Wanderlustography; Sarah Struett of Four Black Paws; Christi Meshell of House of Matriarch; Janice Stevenson of Janice Stevenson Jewelry; Karla Wheeler of Karla Wheeler Design; Michelle Provencher of The Love, Mich Collection; Shelly Pompey Leonard of Mei Faith Studio; Michelee Scott of MScott-Photography; Staci Chheo Stella Shen of NailNation 3000; Anita Miller of Nature's Images By Design; Caitlin Brotz of Olivü 426; Rachel Hughes of Saressa Designs; Christine Lorenzo of SariBlue®; Emma Mann of Soap Cauldron; Tara Reid of Starletta Designs; Leanne Gaumont of Wristicuffs.
Members gifting their products to the celebrities include Gari Anne Kosanke of Bead Lovers Korner; Kathy Dannel Vitcak of The Blissful Dog; Andrea Clem of Glitterfied Nails; Hope Quartuccio of Jungle River Jewels; Lorelei Vella of Lorelei Vella, Inc.; Marie Chang of Marie Chang Designs; Terry Moon of Moon's Harvest Bath & Body Shop; April Maglothin of pop-in-greetings; Marisa O'Brien of primlark; Laura Hudson of Simply Paperie; Kelly LaRoche of Specifically Random; Holly Mandarino of Sweet Ties Hair Ties & Headbands; Krys Resendez of Vapid Lacquer.
To learn more about The Artisan Group's support of the handcrafted movement, its membership and its charitable contributions, read TAGazine | VOL. 2, and review their Event Gift Guide, both available on Issuu.
Also, visit TheArtisanGroup.org http://www.theartisangroup.org/; follow The Artisan Group on Facebook (facebook.com/theartisangroup), Instagram (instagram.com/theartisangroup, and Twitter (@theartisangroup); and subscribe to The Artisan Group blog (http://theartisangrouporg.blogspot.com).
Direct press inquiries to Valerie Guerrero at (408) 203-6727.
About The Artisan Group®
The Artisan Group® (http://www.theartisangroup.org) is a premiere entertainment marketing organization representing talented small business artisans at the best celebrity gift lounges. The organization provides a collective sampling of handcrafted products to celebrities and members of the press at top luxury gift lounges such as those leading up to The Academy Awards, The Golden Globes, The MTV Movie Awards and The Primetime Emmys. The Artisan Group also coordinates product placement of its member's handcrafted products on such hit television shows as "The Young & The Restless", "The Voice", "The Vampire Diaries", "Parenthood" and "Scandal", among others. Membership in The Artisan Group is juried and by invitation only.
The Artisan Group is in no way associated with MTV, The Academy of Motion Picture Arts and Sciences, The Hollywood Foreign Press Association or The Academy of Television Arts and Sciences (The Emmys or The Primetime Emmys).