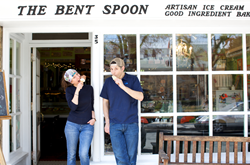 This crazy-special collective that has been part of The Spoon since the day we opened continues to amaze. If we learned anything in ten years it's that we REALLY are all in this together.
Princeton, NJ (PRWEB) May 15, 2014
Friday, May 16, 2014 marks the anniversary of the grand opening of The Bent Spoon at 35 Palmer Square West, exactly 10 years ago. To commemorate the occasion The Bent Spoon will host a day-long celebration, featuring unique prizes and giveaways. Longtime fans will be excited to know that The Bent Spoon's twelve original artisan ice cream flavors will be available on Friday, and each hour a winner's name will be drawn to receive a Cuisinart ice cream maker. "There will be real reaching-into-a-bucket-prize-selection action!" offers an enthusiastic Gabrielle Carbone, co-owner of the local ice cream shop which township residents affectionately call 'the spoon'.
From 3-4PM, the first 100 customers with bent spoon punch cards will receive vouchers redeemable for complimentary 'nibbles,' and shop staff will be offering samples of The Bent Spoon's new 'spoon pops.' "We'll have two awesome food trucks onsite - Nomad Pizza & Moo Truck! Come on out and meet them," offers Carbone.
The Bent Spoon will be open 11AM to 11PM on Friday. Instructions for entering the prize giveaway are included on The Bent Spoon website.
About The Bent Spoon:
For over a decade, the proprietors of this small shop in Palmer Square have been happily crafting their authentically flavored small batch ice creams and sorbets. Owners Gabrielle Carbone & Matthew Errico are nationally recognized for their commitment to authentically sourced and produced ingredients, as well as their contributions to the U.S. artisan ice cream movement, in which The Bent Spoon has been recognized in numerous national publications, books and garnished many awards.
Photographs courtesy of Guy Ambrosino.
For more information about The Bent Spoon's 10-year anniversary celebration:
email: thebentspoon(at)verizon(dot)net
website: thebentspoon.com
twitter: https://twitter.com/thebentspoon
facebook: the bent spoon