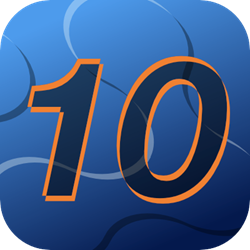 LOS ANGELES (PRWEB) October 29, 2018
TheBrain Technologies, the leading provider of dynamic visualization and knowledge management software, announced its newest release, TheBrain 10.
TheBrain 10 boosts productivity and provides unparalleled insight for users with a completely fluid and visual information linking system that can connect hundreds of thousands of ideas and files. Users create Thoughts on anything from their next vacation to mapping out complex health research and competitive industry analysis. Each Brains' links and "Thoughts" are as unique as their creators. Both individual users and teams can collectively create Brains to see and share information smarter.
TheBrain is a ubiquitous knowledgebase accessible from TheBrain Cloud, as well as native client software on desktop computers and mobile devices. With this new release, TheBrain 10 focuses on easy knowledge capture with the all new BrainBox that lets users quickly collect web pages and files across multiple devices. Once collected, users can link content to related topics, further categorize, add notes, tag and type information, enabling a whole new level of meaning. Additionally, TheBrain 10's Thought Types and Tags have also been updated to enable even more advanced information discovery. Sharing information with TheBrain 10 also gets easier with new presentation mode so users can showcase their ideas in TheBrain's stunning visual display.
"Your best ideas and most critical pieces of information can be found anywhere. TheBrain 10's new on-the-go content capture tools combine with advanced data tagging to give users the power of instant knowledge storage and confidence inspiring recall capabilities." said Harlan Hugh, CEO of TheBrain Technologies.
TheBrain 10 is full of new features and enhancements including:

BrainBox for Instant Knowledge Capture
The all new BrainBox enables users to send information to Brains quickly. BrainBox integrates with all popular browsers as well as Windows Explorer and macOS Finder.

Smarter Information Typing and Tagging
TheBrain 10 further augments TheBrain's critically acclaimed Thought Types and Tagging. Visible types and tags can now be integrated directly into the network eliminating redundancies and enabling smoother workflow.

New Visualization Options: Presentation Mode
Business and Educational Brain users can show off their research and thinking with slick new presentation mode for team meetings. Users can make their Brain full-screen, hiding the title bar, menu bar, toolbar and Brain tabs so audiences can easily focus on the Thoughts and connections.

Advanced Search and Indexing
TheBrain can retrieve and index any attached file or document, now including external files that are not stored in TheBrain. Search now also enables the use of automatic acronyms. All search results are visualized in TheBrain's dynamic mind map so related content is easily discovered.

Improved Data Sync for Anytime Anywhere Access
Users can access their Brains on their desktop, in the cloud or on their mobile device. With TheBrain 10 syncs are smoother and more reliable with the ability to resume syncs that are interrupted by poor network connectivity.

Many More Features and Enhancements
Other notable new features include: Dark mode, a subdued look and feel to the UI, powerful new search and replace for advanced Brain editing, exporting options including folder, text and JSON export, improved speed and responsiveness, and a host of user interface refinements.
Pricing and Availability:
TheBrain 10 is available for immediate download at http://www.thebrain.com and is offered in Free and Pro editions. The Free edition does not expire and lets anyone link ideas and Web pages on their desktops and in the cloud. TheBrain Pro offers unlimited file management, advanced search, secure cloud backup, and much more. TheBrain Pro starts at $180 per year including cloud services and is also available as a standalone perpetual license for $219 without cloud services. Certain users of TheBrain are eligible for a free upgrade to TheBrain 10 and discounts. For more information, contact sales@thebrain.com.
About TheBrain Technologies
TheBrain Technologies helps people see, share and find information faster. TheBrain software helps organize and capture ideas, projects and information on the desktop, in the cloud, and in the mind's eye. Download TheBrain at http://www.thebrain.com.