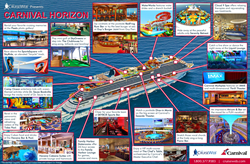 Calverton, MD (PRWEB) January 25, 2017
Carnival Cruise Lines released the inaugural season of cruise itineraries for Carnival Horizon, the next highly-anticipated addition to Carnival's Vista-class of cruise ships. To celebrate this exciting news, The Cruise Web prepared a detailed infographic previewing the best of what guests find aboard Carnival Horizon when she debuts in April of 2018.
Preview Carnival Horizon in The Cruise Web's newest infographic:
http://cruiseweb.com/blog/2017/01/infographic-preview-carnivals-next-ship-carnival-horizon
Carnival Horizon will include several of the same exciting features that have made Carnival Vista such a crowd pleaser, including the outdoor Seaside Theater, WaterWorks aqua park, the high-flying SkyRide racing track, Dr. Seuss' Bookville, the Liquid Lounge performance theater and Carnival Multiplex with an IMAX and the multi-dimensional Thrill Theater. Carnival Horizon will also feature Carnival's new Family Harbor Staterooms and Family Harbor Lounge for all sorts of family-friendly games and movies.
To celebrate Carnival Horizon's 2018 itineraries being open for booking as of January 24th, guests will receive a $50 onboard spending credit and a free 2-category stateroom upgrade for select sailings. This limited time offer is applicable on new bookings made January 24 - 31, 2017. Additional terms and conditions apply; contact The Cruise Web for details.
Carnival Horizon will debut in Europe in April 2018, starting her life at sea with a series of Mediterranean voyages out of Barcelona, Spain. In May of 2018 she will sail across the Atlantic to New York City, which will serve as her home port for 8-day Eastern Caribbean voyages departing between May and September. Carnival Horizon will then reposition to Miami at the end of September to begin a year of 6- and 8-day Caribbean cruises.
To learn more about Carnival Horizon – and to take advantage of her debut special of onboard credit and free upgrades – contact one of The Cruise Web's expert cruise consultants today at 1-800-377-9383.
About the Cruise Web
The Cruise Web is a cruise travel agency specializing in a personalized consultative approach that takes the stress out of cruise vacation planning. In business for over 20 years, The Cruise Web serves clients around the world with experienced travel consultants providing clients with the best value for their time and money. Contact The Cruise Web today at 1-800-377-9383 (toll-free) or 1-240-487-0155 (local), and visit The Cruise Web online at CruiseWeb.com for the best cruise deals.