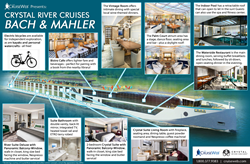 "We are excited to welcome these new vessels to Crystal's river cruise fleet and look forward to our clients' feedback as they sail across Europe on these beautiful brand new ships" said Karolina Shenton, Senior Marketing Manager at The Cruise Web.
Calverton, MD (PRWEB) October 12, 2016
In the summer of 2017, Crystal River Cruises will debut two luxurious river ships, Crystal Bach and Crystal Mahler, the first river vessels purpose-built specifically for Crystal. These modern yet elegant sister ships are beautiful inside and out, with luxurious touches and surprising amenities like an indoor pool, king-size beds and more!
To preview the stunning design of the upcoming Crystal Bach and Crystal Mahler, The Cruise Web created the following infographic, showcasing some of the most impressive features of these two beautiful river ships:
http://cruiseweb.com/cruise-lines/crystal-cruises/ship-crystal-bach#infographic
The Crystal Bach will make her much-anticipated debut sailing from Amsterdam to Frankfurt on June 18, 2017. The Crystal Mahler will have her own premier shortly after, departing from Budapest for Amsterdam on August 29, 2017.
While aboard the Crystal Bach and Crystal Mahler, guests will enjoy Michelin-starred cuisine, onboard lecture series and engaging conversation in a number of remarkable dining venues and public spaces. The Palm Court takes advantage of plentiful skylights to create a lively, yet elegant atmosphere with a stage, dance floor and bar. The Vintage Room can be reserved for intimate dining events with local-wine-themed meals, and the Waterside Restaurant offers open-seating dinner with a view. Mix things up with a dip in the onboard pool, which is covered by a retractable roof that opens to let in the sun. Then, when it's time to explore the cities of Europe, guests will have complimentary access to kayaks, personal watercraft and electric bicycles!
The all-suite accommodations aboard each river ship feature king-size beds, walk-in closets, butler service and Nespresso coffee machines. The suite bathrooms with double vanity, back-lit mirrors and heated towel rails are just as remarkable. Plus, for guests to better enjoy the beautiful river scenery, the beds are positioned so that they face panoramic balcony-windows!
After her inaugural sailing, Crystal Bach will sail along the Rhine, Main and Moselle Rivers with departures from Amsterdam, Frankfurt and Basel. The Crystal Mahler, which debuts two months later, will sail the Rhine, Main and Danube Rivers with departures from Amsterdam and Budapest. Both ships are now available to book.
To learn more about Crystal River Cruises' luxurious new river ships, contact The Cruise Web today. Plus, for a limited time only, The Cruise Web is offering up to $200 savings per person on select 2016-17 river cruises.
About the Cruise Web
The Cruise Web is a travel agency with more than 20 years of experience specializing in cruise vacations. Taking an entire world of cruising possibilities, The Cruise Web applies a personal consultative approach to match each traveler with the ship and itinerary best suited for their specific style and preferences. For help planning a cruise vacation, contact The Cruise Web's experienced consultants today at 1-800-377-9383 (toll-free) or 001-240-487-0155 (international), or visit http://cruiseweb.com.