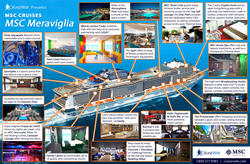 Calverton, MD (PRWEB) February 21, 2017
Beginning in June 2017, the world will experience MSC Cruises' newest "Meraviglia" – or "Wonder", as it translates in English. Until then, curious cruisers can whet their appetite with a virtual tour via The Cruise Web's newest in-depth infographic, which highlights many of the incredible state-of-the-art features and spaces found on board MSC Meraviglia.
Explore MSC Cruises' MSC Meraviglia in The Cruise Web's latest infographic:
http://cruiseweb.com/cruise-lines/msc-cruises/ship-msc-meraviglia#infographic
Whether it's high-tech indoor entertainment or wet-and-wild poolside fun, MSC Meraviglia offers innovations around every corner. The upper-deck Aquapark features a ropes course and three waterslides, one of which extends out over the water beyond the side of the ship. Guests will also discover no shortage of pools aboard this new ship, like the central Atmosphere Pool featuring a giant movie screen or the Horizon Pool that transforms into a dance club at night.
Indoor entertainment ranges from indoor bowling and Formula 1 racing simulators to live music and theater – with Cirque du Soleil adding the exclamation point to any activity-filled day of fun with nightly shows, exclusively aboard MSC Meraviglia! Plus, just walking around the ship is entertaining on its own with the Promenade featuring a giant LED-screen ceiling showing dazzling digital scenery.
Of course, no cruise ship is complete without a variety of welcoming accommodations to call home for your week away. To this end, MSC Meraviglia offers something for everyone with adjoining family staterooms, elegant balconies, two-story Duplex Suites and the incomparable MSC Yacht Club.
MSC Meraviglia will debut to the cruising public on June 10, 2017 in Marseille, France. Her inaugural year of cruising will take her throughout the Mediterranean on 7-night sailings to Genoa, Naples, Messina, Valletta, Barcelona and Marseille.
To learn more about MSC Meraviglia – or to experience her unique Italian-inspired design and family-friendly amenities in person – contact one of The Cruise Web's expert cruise consultants today at 1-800-377-9383.
About the Cruise Web
The Cruise Web is a travel agency specializing in cruise vacations around the world. Using a free and personalized consultative approach, The Cruise Web removes the stress from vacation planning – and has been doing so for over 20 years. The Cruise Web's expert travel consultants provide clients worldwide with the best value for their time and money. Contact The Cruise Web today at 1-800-377-9383 (toll-free) or 001-240-487-0155 (international), and visit The Cruise Web online at CruiseWeb.com for the best cruise deals.