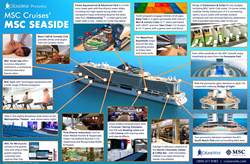 Calverton, MD (PRWEB) July 25, 2017
In December of 2017, MSC Cruises will launch its next family-friendly cruise ship, MSC Seaside. The line's newest vessel, which will hold up to 4,140 passengers, will premier with a host of new accommodations and raise the bar for contemporary cruise ships. While waiting for her big Miami debut in December 2017, cruisers can enjoy a sneak peek at this ultra-modern ship with a new infographic from The Cruise Web.
Preview MSC Cruises' MSC Seaside in The Cruise Web's latest infographic:
http://cruiseweb.com/cruise-lines/msc-cruises/ship-msc-seaside#infographic
With the MSC Seaside, MSC Cruises sure went the extra mile to build a world-class ship with an emphasis on entertainment options. The 5D Cinema and Formula1 Racing simulator add the thrills, while the Waterfront Boardwalk guides you between venues, shops, bars and restaurants. The multi-level aqua park is like no other; featuring five water slides, including two high-speed racing slides twisting out beyond the side of the ship and an interactive video-game-meets-water-slide fusion called Slideboarding™ that has to be experienced firsthand, there's fun to be had by all. Even MSC Seaside's elevators provide entertainment with their panoramic seaviews!
Diverse doesn't even begin to describe the dining options aboard MSC Seaside. Partake in an unforgettable Pan-Asian culinary experience at the Asian Market Kitchen or Teppanyaki Restaurant, both by Roy Yamaguchi, enjoy the fresh seafood of Ocean Cay Restaurant, cut into a perfectly cooked steak at Butcher's Cut, or gather the family for a casual dinner at Biscayne Bay Buffet & Pizzeria.
After a tasty meal and some engaging entertainment, what could be better than returning to one of the MSC Seaside's well-appointed staterooms for a good night's rest? MSC Seaside offers a variety of accommodations for all types of cruisers on any budget – from cozy interior rooms to spacious MSC Yacht Club Suites, or connecting Family Staterooms to romantic terraced balcony cabins.
MSC Seaside debuts in December 2017 in Miami, Florida – the city from which she'll homeport for a season of Eastern and Western Caribbean itineraries. With calls in Jamaica, Mexico, the US Virgin Islands, Bahamas, Puerto Rico and the Cayman Islands, guests will get to sail all over the Caribbean aboard MSC Seaside!
To learn more about MSC Seaside and her upcoming cruise itineraries, contact The Cruise Web's expert cruise consultants today at 1-800-377-9383.
About the Cruise Web
The Cruise Web is a cruise travel agency with more than 20 years of experience in matching travelers with their ideal cruise vacation. Using a fun, personal and complimentary consultative process, The Cruise Web takes the stress out of vacation planning. The Cruise Web's clients come from around the world to find the best value for their time and money. Contact The Cruise Web today at 1-800-377-9383 (toll-free) or 001-240-487-0155 (international), and visit The Cruise Web online at CruiseWeb.com for the best cruise specials.