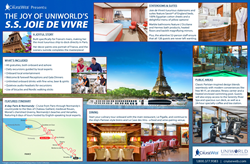 Calverton, MD (PRWEB) June 20, 2017
Uniworld Boutique River Cruise Collection recently gave cruisers a chance to rediscover the "joy of living" aboard the line's latest all-inclusive boutique ship, S.S. Joie de Vivre. What really sets this ship apart from the competition, however, is that she was built specifically for cruising France's Seine River and designed small enough to dock directly in Paris. With The Cruise Web's new infographic, you can learn more about the S.S. Joie de Vivre's Parisian-inspired design, all-inclusive amenities and luxurious accommodations.
Experience the joy of Uniworld's S.S. Joie de Vivre in The Cruise Web's newest infographic:
http://cruiseweb.com/cruise-lines/uniworld-river-cruises/ship-s-s-joie-de-vivre#infographic
Guests aboard Uniworld's S.S. Joie de Vivre will delight in the picturesque scenery surrounding the luxurious vessel as she makes her way from Paris to Normandy. Though she'll sail away from Paris, the S.S. Joie de Vivre will bring the essence of this great city along for the ride as her décor was inspired by and intended to capture the heart and soul of the City of Lights.
Guests will enjoy fresh French cuisine at the Parisian-styled Bistro or the main restaurant, Le Pigalle. Plus, Le Cave des Vins is available for expertly crafted food and wine pairings. In between meals, guests may take a dip in the enclosed swimming pool, catch some rays on the spacious sun deck or discover nirvana within the Serenity River Spa.
The luxurious staterooms and suites aboard S.S. Joie de Vivre are an alluring sanctuary after a day of guided touring. The Savoir of England beds and 100% Egyptian cotton sheets invite a peaceful slumber, while the beautiful marble bathrooms and heated floors make the sunrise just as welcome. Plus, each new day presents yet another opportunity for Uniworld's 52-person team to exceed the expectations of all 128 guests onboard.
S.S. Joie de Vivre will sail the Seine River between Paris and Normandy, passing quaint villages, rolling vineyards and fairytale castles on her way through the stunning French countryside. SS Joie de Vivre is already sailing a series of 8-day Paris & Normandy itineraries, and is also featured as part of two distinct 15-day voyages – A Portrait of Majestic France and Grand France – as well as the 22-day Ultimate France river voyage. During the winter holiday season, she will also sail a series of 8-day Christmas market itineraries from Paris.
To learn more about Uniworld's S.S. Joie de Vivre, please contact The Cruise Web's river cruise experts at 1-800-377-9383.
About the Cruise Web
The Cruise Web is an independent travel agency specializing in cruise vacations. With 20+ years of cruise consulting experience, The Cruise Web takes a personalized approach to cruise planning, focusing on providing clients with the best value for both their time and money. For stress-free cruise planning and best cruise deals contact The Cruise Web today at 1-800-377-9383 (toll-free) or 001-240-487-0155 (international), and visit The Cruise Web online at CruiseWeb.com.