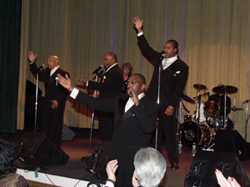 Let us all go 'On Broadway' with the LPT Drifters.
New York, NY (PRWEB) April 15, 2014
Mark Sonder, MM, CSEP and the Chief Entertainment Officer at the award winning music and entertainment agency Mark Sonder Productions, Inc. is proud to announce that the Summer "On Broadway" 2014 Tour kicked off in The Big Apple. This past Sunday and Monday, April 6 and 7, the group, singing A cappella, performed near Strawberry Fields in NYC's Central Park with other acts. All will line the walkways as tourists and guests enter the park with various musical themed accompaniment. This entertainment went on from 12:30pm-5:30pm.
The LPT Drifters have been on the association and corporate circuit this spring and are now ramping up for the summer tour which will take them across the USA performing tunes from the American Songbook, including:

Stand By Me
Under The Boardwalk
On Broadway
This Magic Moment
There Goes My Baby
Save the Last Dance For Me
Up On the Roof
Dance With Me
Spanish Harlem
Linwood Peel's Tribute to The Drifters are the national recognized leaders of this genre of music whose format is being rekindled yet again in a show performing in Las Vegas and in Europe.
Check your local listings to see them live at opera houses, Performing Arts Centers, fairs, and festivals while they continue to work at various meetings, conventions and special events.
Call today to book Linwood Peel's Tribute to The Drifters +1-540-663-1640.
About Mark Sonder Productions, Inc.
Created in 1985 to fill a growing need for music, entertainment, speakers, headline entertainers and supportive production in corporate and association meetings, conventions and special events plus facilities, casinos and concerts, the company in its 29 years, has worked in the US, Canada, Mexico, South America, Europe and Southeast Asia.
Contact: +1-540-636-1640 or msonder(at)marksonderproductions(dot)com