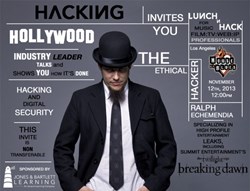 Hollywood can no longer ignore the threats posed by the use of today's digital technologies. When it comes to the security of your data and protection of unreleased content, awareness is the best defense. - Ralph Echemendia
Hollywood, CA (PRWEB) November 06, 2013
Ralph Echemendia a.k.a. "The Ethical Hacker" along with Jones & Bartlett Learning hosts a lunch you and your company can not afford to miss.
Hackers are believed to cost global businesses billions of dollars every year, and the costs to defend against them are soaring.
Ralph Echemendia, a leader in the information security field, along with Jones & Bartlett Learning will host an exclusive event at the House of Blues, Sunset Strip. This luncheon will bring awareness to entertainment industry professionals on computer hacking and the importance of cyber security in today's digital landscape.
Providing education and reducing risk is the focus of this event, held on Tuesday, November 12th from Noon to 2pm.
~ Guests will be invited to participate in an informal question and answer session with Ralph and co-hosts.
~ This presentation will include coverage of recent events, live hacking demonstrations, tips and strategies that industry professionals can implement to protect themselves, their productions, organizations and intellectual property.
For over 20 years, Ralph has conducted infrastructure deployments, security audits, penetration tests, and managed numerous technology teams and budgets as well as consulted for multiple organizations around the world, including the United Nations and NASA.
Mr. Echemendia has provided corporations and law enforcement the necessary evidence to prosecute some of the largest breaches and cases in the entertainment industry, such as Summit Entertainment's leak of Twilight: Breaking Dawn.
http://www.hollywoodreporter.com/thr-esq/accused-twilight-breaking-dawn-hacker-219541
http://www.hollywoodreporter.com/thr-esq/summit-loses-bid-punish-two-625382
For the past decade, Ralph has consulted, written and delivered training on Hacking and other information security topics to the US Marines Corps, Army, Navy, SPAWAR, Bristol Meyer Squibb, Google, Oracle, AMEX, Boeing, Intel, Microsoft, Symantec and IBM. Most Recently Ralph worked with award-winning Director Oliver Stone as technical security consultant on the Universal Pictures release "Savages."