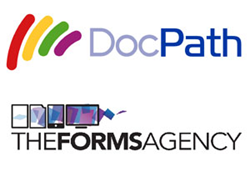 The solution has enabled the business to service our customers more efficiently and we will now look to extend this to other parts of the organisation.
Sydney, Australia (PRWEB) November 06, 2014
Two years ago, TheFormsAgency was formally certified as a DocPath Partner for the Oceania region. The combined efforts of DocPath and TheFormsAgency, has resulted in the DocPath customer base expanding rapidly. After a large number of document software solution implementations their partnership has been renewed and further strengthened.
Successful Business Networking
The partnership between TheFormsAgency and DocPath highlights, once again, one of the primary benefits of global business networking: the ability to quickly fulfil mission critical demands of local customers. After all, the key to attaining CCM market success, is understanding the customer´s business needs.
DocPath´s document management solutions product range has carved out an important niche for itself in the Oceania market. Thanks to TheFormsAgency´s deep experience, knowledge and delivery capability, local companies have access to world class CCM solutions. DocPath's feature rich and cost effective document management solutions have been adopted by banks, insurers, retailers and manufacturers. TheFormsAgency's success is reflected in a triple digit growth from 2012 to 2014.
The seamless partnership between DocPath and TheFormsAgency ensures that each document management project is developed and completed professionally, efficiently and rapidly, through exhaustive analysis by TheFormsAgency's expert consultants, on-site technicians and bespoke training.
Recent Implementation
One of the most recent results of DocPath and TheFormsAgency´s partnership is the successful implementation of DocPath document software solutions at Thorn Group Limited. Thorn is one of Australia's leading providers of retail and financial services to niche consumer and commercial markets.
Some of the main technological requirements of the group consisted of being able to efficiently generate business documents, print these documents at different printers and offices, send them by email, and securely archive them. Moreover, these features needed to be integrated with the company´s Microsoft Dynamics NAV software.
As DocPath´s document software is modular, TheFormsAgency was able to tailor a new platform based on DocPath software, to the specific client needs. DocPath solutions used in the process were:

DocPath Business Suite Pro: A complete document management solution offering a wide variety of processing, output and distribution options.
DocPath Aspen: A powerful document manager.
On the other hand, as DocPath offers an integration system to complement Microsoft Dynamics NAV, the group has been able to greatly expand its print and archival functionalities.
As a result, the group is now able to print all its business documents at any of its delegations and manages its internal documentation using the features and capabilities provided by DocPath's document management solutions.
Satisfied Customers
As DocPath´s document management software is modular, TheFormsAgency is able to customise solutions to the specific needs of Australian clients. The result is that customers such as Thorn Group Limited and Pepper, one of Australia's leading non-bank lenders, now have automated document processes that have substantially improved customer interactions.
"TFA have been a vital partner in our launch of a new ERP and Point of Sale system, ensuring that our customer facing documents are generated accurately and on time. The solution has enabled the business to service our customers more efficiently and we will now look to extend this to other parts of the organisation."
Thorn Group Ltd
"TFA has been instrumental in helping us to replace our legacy JetForm solution and in the process identify further cost savings with the mail house while providing the Customer Service team with instant access to historical customer correspondence. Cost to maintain our briefcase of forms is now reduced and managing document retrieval has been a surprising benefit for the Customer Service team."
Pepper Australia Pty Ltd
Specifically, DocPath´s Business Suite Pro, Aspen and Remote Office Printing solutions have been very favourably received by Australian customers and rated as valuable document management tools with impressive capabilities. DocPath Business Suite Pro allows companies to design professional documents and use a variety of output and distribution options (such as multiple printers, email and fax). DocPath Aspen is a powerful document manager, and DocPath Remote Office Printing is ideal for organisations with an office network that is spread throughout different geographical areas.
About TheFormsAgency
TheFormsAgency was founded in 2011 by its current directors, Mike Jones and Kevin Tattrie, and now has a team with more that 60 years of combined experience in CCM, eForm and document generation solutions. TheFormsAgency is an experienced and highly skilled team who enable organisations to realise the savings and process improvements inherent in Customer Communications and document generation solutions.
Website: http://www.theformsagency.com
About DocPath
DocPath is a leading document technology software manufacturer. Founded in 1992, its headquarters is located in Madrid with two other design and development offices. DocPath solutions are found in companies all over the world. Among its international clients are prestigious banks and first-class corporations, which are aided by DocPath solutions by simplifying the complicated and critical tasks involving design and the distribution of documents. DocPath maintains a strong commitment to R&D&i, an area that receives a good amount of its revenue, and in which lies the key to the company´s success.
For more information, visit http://www.docpath.com.
DocPath is a registered trademark of DocPath Corp. All rights reserved. Other trademarks may be the property of their respective owners.