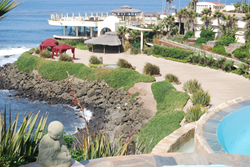 The Holistic Sanctuary Highlights the Dangers of Conventional Drug Rehab: Because they simply do not work.
Los Angeles, CA (PRWEB) August 23, 2013
Based on findings from the U.S. Substance Abuse and Mental Health Services Administration, as revealed by US News & World Report, Americans aged 12 to 49 who had used prescription pain relievers illegally were 19 times more likely to have started using heroin within the past year than other people.
This study is no surprise to the professionals at The Holistic Sanctuary, who help, heal and empower guests suffering from opiate addiction or the dual threat of addiction to prescription medications and heroin, which leaves these individuals in physical agony, emotional distress and burdened by the false belief that addiction is an incurable disease. The report further details that nearly 80 percent of people who recently started using heroin had previously used prescription pain relievers illegally.
The broader phenomenon, which is now an invasive threat among some of the country's most affluent suburbs (including those near Chicago), is the codependency between toxic prescription medicines, which are also commonplace among conventional drug rehab facilities, and heroin. According to the Chicago Tribune, in Lake County, Illinois, opiate related deaths rose nearly 45 percent during the last five years, where these overdoses – in one the nation's wealthiest areas – are now at epidemic proportions.
ABC News also confirms the same problem, the linkage between prescription medications and heroin addiction, which is now commonplace in all upper middle class suburbs. "Every part of Bergen County is touched in some way, shape or form by the heroin epidemic," says Lt. Thomas Dombroski of the Bergen County, New Jersey, Prosecutor's Office. "Prescription medication is a pathway," he says, where ABC News then cites the case of Dylan Young, 23, who is the voice of this relapse-to-rehab carousel of pain, frustration, misery, financial devastation and emotional wreckage.
"A lot of us are missing something and then end up filling that void with drugs," Young says. "It can really happen to anyone and it also depends on the choices you make, the people you hang out with. And I just think if you are not staying busy, you might end up using. … When you are in that situation, you usually don't see hope of a life ahead of you. You just see your next fix."
The Wall Street Journal echoes this point by reporting that heroin use in the U.S. is soaring. There were 3,094 overdose deaths in 2010, a 55% increase from 2000, according to the federal Centers for Disease Control and Prevention.
All of these statistics are part of the same problem, a national epidemic in which conventional drug rehab centers substitute one poison for another, use the veil of "medical legitimacy" to masquerade their unpublished (but high) rates of failure. All the while patients become more vulnerable to a potentially lethal combination of opiates and prescription medications, where the latter – as documented by countless studies, controlled experiments, published reports and testimonials from patients themselves – often cause irreparable harm, with side effects that include: kidney damage, liver damage, heightened risk for stroke and heart attack, depression, respiratory ailments, mania, suicidal tendencies, general pulmonary pain and bone damage.
As a premier holistic drug rehab center, as a secluded paradise amidst the soothing, beautiful water of the Pacific Ocean, the healing environment of Mother Nature and the serenity – and personalized care – of a luxurious 5-star resort, amidst this safe and inviting oasis – a true escape from the stress and incalculable toll of addiction – The Holistic Sanctuary heals, restores and rejuvenates the areas of the brain damaged by addiction. In so doing, guests have a second chance at life: A new opportunity to emerge stronger, in mind, body and spirit, as compared to the failed tactics offered by conventional drug rehab centers.
These exclusive opiate addiction treatments and detox solutions are the result of extensive research, development, testing, refinement and careful application. "The heroin epidemic, in concert with dependency on prescription drugs, is part of the same deadly phenomenon. Without our assistance – without the compassionate, customized and proven ability to permanently end addiction – these individuals, sons, fathers, daughters, sisters and mothers, are left to endure the lasting agony of entering the revolving door – the hellish spiral of physical doom and medical death – associated with traditional rehab facilities," says Johnny Tabaie, Founder of The Holistic Sanctuary. Click here http://www.johnnythehealer.com/.
In addition, The Holistic Sanctuary also has the ultimate form of evidence – the independent, undeniable and incontrovertible material – to underscore the consistent and superior success rates of its approach versus the broken and outdated methods employed by conventional rehab centers. We have the brain scans of healed patients, where areas previously damaged by addiction are now healthy, whole and vibrant.
About The Holistic Sanctuary
The Holistic Sanctuary is the home of the exclusive, all-natural and proprietary Pouyan Method, which enables patients to permanently end a variety of addictions. Unlike conventional drug and alcohol rehabilitation centers, which have rates or failure or relapse among patients, The Holistic Sanctuary offers a customized protocol with the amenities of a 5-star resort. We seek to stop addiction without prescription medication or the use of 12-step programs. Nor do we classify guests as victims of an incurable disease. Our therapies focus on healing the brain, so a person can heal their life. For more information about our innovative techniques, founding principles and testimonials from former guests, please visit [http://www.theholisticsanctuary.com.