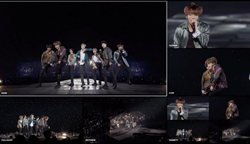 It was a historical moment and we were delighted to see how the next generation of live streaming technology could bring our fans closer to the concert experience
SEOUL, South Korea (PRWEB) January 09, 2020
BTS held an official fan meeting in early December in Japan at Osaka's Kyocera Dome to the delight of many fans. For those who were not able to attend in person, Big Hit Entertainment provided a livestream of the event.
Big Hit Entertainment partnered with Seoul-based company TheLIVE to livestream BTS' concert in Osaka to members of the band's Japan-based fan club. Members who bought digital tickets for the livestream witnessed a transformative viewing event that included multiview functionality and live social engagement. The fans were empowered to switch cameras and zoom in for a more personalized experience, choosing from six simultaneous streams in stunning 1080p video quality - even on their mobile phones. A majority of the audience used different multiview cameras which included VIP close-ups to wide-angle views. Fans were also able to show their excitement with real-time group chats which had high engagement throughout the event with a crescendo of activity during the goodbye segment.
TheLIVE's technology is powered by Kiswe Mobile whose patented award-winning technology is used by sports broadcasters and concert producers all over the world to deepen the engagement for fans during live broadcasts.
"It was a historical moment and we were delighted to see how the next generation of live streaming technology could bring our fans closer to the concert experience. And we are eager to further innovate with TheLIVE and Kiswe Mobile to better connect our global fans and drive intimacy through mobile phones," said the CEO of beNX and CTO of Big Hit Entertainment.
"This was an exciting opportunity for us to see how fast and far we could push the limits of a livestream concert. After this experience in Osaka we're even more excited," said Tommy Jung, CEO of TheLIVE.
"We're at the beginning of a transformative time for livestreaming concerts and we can't wait to really push the limits of user experiences with our cloud-video technology. There's no better partner in the world than Big Hit Entertainment to challenge these limits and see how high and far we can go," said Mike Schabel, CEO of Kiswe Mobile.
About Big Hit Entertainment
Founded in February 2005 in South Korea by CEO and Producer Bang Si-Hyuk, Big Hit Entertainment's core business focuses on music production, artist management and publishing. Big Hit's business ventures incorporate and develop a range of content produced from top-notch artists' IP, including global superstars BTS and its newest addition TOMORROW X TOGETHER. With its mission of 'Music & Artist for Healing', Big Hit strives to impart a positive influence through content while providing comfort and inspiration to music fans worldwide. To learn more about Big Hit Entertainment, visit http://www.bighitcorp.com.
About TheLIVE
A joint-venture company with Kiswe Mobile that aims to be the No.1 Interactive Video Streaming Platform that delivers the most powerful content to a worldwide audience. TheLIVE supports a next-generation interactive video platform that combines content and global communication technology. It provides interactive video services through real-time global multiview streaming and CloudCast which is based on Kiswe Mobile's technology. Viewers can watch K-pop concerts in real-time on multiple screens from various angles, and can also watch premium content such as education, dance, and sports with user interactive functions. To learn more about TheLIVE, visit http://www.thelive.io.
About Kiswe Mobile™
Kiswe Mobile has pioneered cloud-based interactive video solutions that transform linear TV content into personalized and interactive mobile video experiences that significantly increase audience engagement and viewership. Kiswe Mobile partners with visionaries in sports and music to lead the shift in how live video is consumed by creating experiences that unlock the interactive functionality of digital devices. Kiswe Mobile is headquartered in Murray Hill, NJ and has offices in New York City, Washington D.C., London, Belgium, Singapore and South Korea. To learn more about Kiswe Mobile, visit http://www.Kiswe.com.