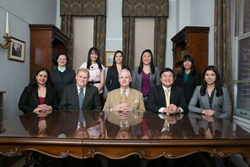 San Francisco, CA (PRWEB) May 31, 2017
Attorneys Steven Adair MacDonald and Kavita Sharma, of Steven Adair MacDonald & Partners, recently settled a case (Case No. CGC-11-516116 filed in Superior Court of California, County of San Francisco) involving a co-owner dispute between siblings over a public nuisance house. The case dates back decades when the five siblings inherited a valuable single-family home in San Francisco from their mother, and one brother was allowed to reside in the home.
According to court documents, the sibling allegedly let the house fall into severe disrepair, prompting neighbors to complain to the Department of Building Inspection, which subsequently issued multiple citations for building and safety issues. The brother also allegedly failed to notify his siblings of the disrepair and moved out of the home, which was declared a "public nuisance."
Court documents further state that once the other siblings became aware of the problem they tried to obtain a loan to repair the house or sell it, but their brother allegedly refused to cooperate with a loan or sale. In the interim, another sibling died without leaving a will. After fines had accumulated for several years, court documents state, the City Attorney filed a lawsuit against all the owners seeking over $2 million in penalties and attorney fees, but the same brother still refused to sell.
According to court documents, attorneys MacDonald and Sharma were able to successfully negotiate with the City Attorney a drastic reduction in fees and penalties (13% of what was demanded) with an agreement that their clients would take steps to sell the home. The MacDonald firm also filed suit against the negligent brother to obtain a court order to sell the house. With all the siblings and estates finally represented, the MacDonald firm negotiated an agreement to jointly sell the house, which sold for over $1.6 million.
About Steven Adair MacDonald & Partners, P.C.
The MacDonald firm handles all types of real estate disputes throughout the Bay Area. The firm handles cases involving co-owner disputes, HOAs, evictions, rent-control disputes, habitability issues, commercial landlord-tenant disputes, short-term-rental issues and more. For more information or a free consultation, please call (415) 956-6488, or visit http://www.samlaw.net. The law office is located at 870 Market Street, Suite 500, San Francisco, CA 94102.
About the NALA™
The NALA offers small and medium-sized businesses effective ways to reach customers through new media. As a single-agency source, the NALA helps businesses flourish in their local community. The NALA's mission is to promote a business' relevant and newsworthy events and achievements, both online and through traditional media. For media inquiries, please call 805.650.6121, ext. 361.