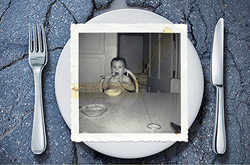 It wasn't a matter of, if you'd have me crying but more a matter of, if I could stop when the lights went up. It is a rare thing and beautiful to witness." Peter Kershaw, award winning writer, director at Duchy Parade Films
Santa Fe, NM (PRWEB) May 04, 2017
May 2016 launched a lifetime project that is the overnight success of Mansini and her Meatball Chronicles. Mansini has worked twice with Oscar winner Jeff Bridges in Crazy Heart and currently in the Oscar nominated Hell or High Water. She appears in several episodes of Better Call Saul, reprising her role as Fran, the waitress from Breaking Bad. She is the voice of Georgia O'Keeffe in the upcoming PBS special "Awakening in Taos," a documentary about the great Mabel Dodge Luhan, narrated by Ali MacGraw.
The Meatball Chronicles, however, is theater of her own making. Both writer and performer, Mansini jumps out on a limb and holds her skill as a writer and performer out there for all to see. "There is nothing to hide behind. The most naked an actor can be is in a solo performance. It is a terrifying gift as a performer." And that is just what audiences across the Country are getting- the delicious gift of Mansini and her Italian immigrant family. This is the story of their love and dysfunction all wrapped in a superb recipe for meatballs. Accomplished as she is in her life as an actor on stage and film, she says nothing is quite the experience of a solo show. "Even though the story is personal, I think everyone can relate to some part of it- the familial relationships that struggle through immigration, mental illness and love. I personally see everything through the lens of food - as I say in the show, it's where we celebrated our joys and hide our sadness; all of it is told through my recipe for a meatball everyone wants to eat at the end."
Whether a film or theater aficionado, people seem to be affected by this extremely personal yet very relatable story. From audience members leaving messages for Mansini to industry professionals, the praise for The Meatball Chronicles keeps coming. "Well written, constructed, and beautifully played," says Ron Bloomberg, writer from the famed "All in the Family." Or this glowing review from Lisa Lucas, Emmy winning Writer/Producer - "The wonderful Debrianna Mansini plays herself as well as all the characters in her complicated Italian family--and they are a force to be reckoned with in The Meatball Chronicles, her one woman show, where she gives one helluva poignant, powerhouse performance that will leave you laughing, crying and oh so hungry..for more!"
Mansini is booked from Maine to Alaska, working with restaurants in each city. She calls it a twist on dinner theater. "The chef's I've collaborated with are moved by their own memories and family, to what inspired them to be the food artist they are now- usually it began with a gramma or mom in the kitchen." Each one creates their own special bite. Audience members can go and experience the fare anytime during the run of the show, allowing for a cross tasting of both artists.
Go and have your culinary adventure and see some fantastic theater. You will have the best of both worlds. One theater goer said it best. "Treat yourself to "The Meatball Chronicles!" You'll leave with an inspiration to rise above your troubled past or present, and an insatiable hunger for Italian food!"
All MBC performance dates can be found on Mansini's website. Next up- The Chronicles will be in Portland at St. Lawrence Arts, following the solo performance of Cidny Bullens "Somewhere Between," both shows under the fine direction of Tanya Taylor Rubinstein. She will then be in Valdez, AK at The Last Frontier Theater Conference, and at FringeArts in Philadelphia, with Chicago and LA coming soon.