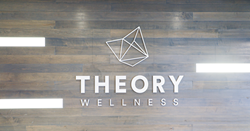 "Nick and I have always loved Maine and have a deep affinity for it—both personally and professionally. For Theory Wellness to join the repeal of cannabis prohibition among some of the finest cannabis cultivators in the world is a long-standing dream."—Brandon Pollock, CEO, and Co-Founder
STONEHAM, Mass. (PRWEB) October 08, 2020
Theory Wellness, a craft cannabis company with roots in Massachusetts will be opening their first out-of-state recreational dispensary in South Portland, Maine on Friday, October 9th. Theory's launch of the first store in Maine comes nearly two years after the company had begun the competitive application process.
On September 8th, Theory was awarded one of only two final recreational retail licenses issued in the entire state (a few more have since been issued). Their location, minutes from the Portland airport and I-95, will open its doors this Friday at 10 AM. Since their initial license was granted, they have subsequently received their production and cultivation licenses as well, making them one of two vertically integrated operators in the entire state. Their cultivation and production facilities will be located in Waterville, where the company's leaders have strong ties.
Theory's CEO, Brandon Pollock, and co-founder and CFO, Nick Friedman are Colby College graduates (and roommates) who started their first company in Waterville, a bottle-less water cooling system, Blue Water Reserve. "Nick and I have always loved Maine and have a deep affinity for it—both personally and professionally. For Theory Wellness to join the repeal of cannabis prohibition among some of the finest cannabis cultivators in the world is a long-standing dream. We've found success here [in Massachusetts] and hope to carry the same learnings to a new state."
An early entrant in the Massachusetts recreational cannabis market, Theory will be one of the first dispensaries in Maine to sell legal, recreational cannabis to those who are 21 and older. The location at 198 Maine Mall Rd. provides ample parking just a few minutes from the airport and minutes off I-95. The Company anticipates this location will employ upwards of 20 people as operations get underway.
About Theory Wellness, Inc:
Theory Wellness, Inc. is a vertically integrated cannabis cultivation, retail, and product manufacturing company headquartered in Stoneham, MA. Theory operates multiple cultivations and retail locations in Massachusetts and Maine. All products are manufactured in their state-of-the-art facility and produced in small batches, which undergo thorough independent lab testing.