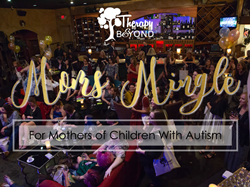 "The Moms Mingle was comforting, because I met other mothers who had stories of embarrassment, frustration, laughter and triumph. I feel more connected to the autism community and gained valuable knowledge about grieving, working together, and serving others. My heart is happy." - Mingle Attendee
HOUSTON (PRWEB) March 12, 2019
Therapy and Beyond will present the 2nd Annual Moms Mingle in The Woodlands on March 19th, 2019 at the Crush Wine Lounge. Every year, Therapy and Beyond partners with local organizations to throw Moms Mingles in multiple cities, where 100+ moms of children with autism gather to enjoy a night off from their hectic lives. One in 59 children are diagnosed with autism in the United States. The moms will enjoy free food, drinks, games, raffle prizes, and most importantly, the community of women on the same journey as themselves.
"Thank you for last night. What I enjoyed the most was my sense of belonging. Friendships have their challenges when you're going through different paths in life. I've lost some girlfriends because of this, but have gained sisters who are part of my tribe. I sometimes can't put into words what I feel and perhaps just being with others who walk the same path has brought me great comfort and encouragement to know that I can do this. I'm a proud autism mom when I see the women I'm surrounded with. Seeing their resilience is inspiring and makes me proud to be just like them." – Dallas Moms Mingle attendee
For The Woodlands Mingle, Therapy and Beyond has partnered with F.A.C.E.S. and United in Autism, Julie Hornok to bring this popular free event to the Houston autism community. Author and autism mom Julie Hornok will rally the community with hilarious stories, while the moms relax and enjoy having a night off from kids, spouses, and the day to day stress of being an autism parent. Tickets and details about the mingle are available at - - https://www.therapyandbeyond.com/houston-moms-mingle-autism/. RSVP is required, and open to the first 100 moms that register!
The Mingles began in Dallas in 2013, when Dr. Regina Crone had the idea to create a community giveback that didn't focus on a workshop or learning a new skill, but would simply give moms the opportunity to bond and have an amazing night out. The event was so successful that Therapy and Beyond began to establish annual mingles in other cities, such as Denver, Oklahoma City and Houston.
Therapy and Beyond was founded in 2006 on the principal that there is hope for every child. Today, they provide 1:1 individualized ABA therapy for individuals on the autism spectrum in Oklahoma, Texas and Colorado. Applied Behavior Analysis (ABA) is the most commonly prescribed treatment for children on the spectrum, and focuses on expanding functional communication skills, executive functioning skills, and advancing each child's independence. In addition to helping individuals on the spectrum through ABA, one of Therapy and Beyond's goals is to find ways to give back to the autism community as a whole, through events like the Moms Mingles.