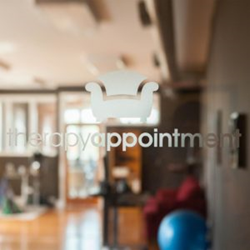 "We are grateful to be able to support these organizations as a part of our overall mission to facilitate the delivery of mental health services", said Dr. William Whitehead, founder and CEO of TherapyAppointment
ASHEVILLE, N.C. (PRWEB) February 18, 2020
TherapyAppointment, a mental-health focused software provider, has announced donations exceeding $45,000 to the National Alliance on Mental Illness (NAMI), the Rape, Abuse & Incest National Network (RAINN), and Open Path Psychotherapy Collective (Open Path). The combined donations will generously support each non-profit's respective mental health programs and initiatives in 2020.
Each year, TherapyAppointment donates a portion of its profits to charitable organizations nationwide. With input from valued customers, NAMI, RAINN, and Open Path were selected to be recipients of this year's funds.
NAMI is the nation's largest grassroots mental health organization dedicated to building better lives for millions of Americans affected by mental illness. For 40 years, NAMI has been at the forefront of the mental health movement providing support, education, and advocacy to ensure people get the care they need and deserve.
"NAMI is thankful for TherapyAppointment's generous donation, allowing us to better serve people affected by mental illness through advocacy, education, support, and public awareness," said Chuck Harman, NAMI's Chief Development Officer.
RAINN, the nation's largest anti-sexual violence organization, created and operates the National Sexual Assault Hotline in partnership with more than 1,000 local sexual assault service providers across the country, including the DoD Safe Helpline for the Department of Defense. Carrying out programs to prevent sexual violence, help survivors, and ensure perpetrators are brought to justice. RAINN will use its donation from TherapyAppointment to continue providing critical support to survivors of sexual violence and their loved ones.
"Thank you so much for being a part of this community and helping us provide support to survivors and their loved ones. Everything we do to help survivors is only possible because of your support," said ToQuyen Doan, RAINN.
Open Path Psychotherapy Collective, a non-profit nationwide network of mental health professionals, is dedicated to providing in-office mental health care at a steeply reduced rate to individuals, couples, children, and families in need. With more than 8,000 therapists in private practice in its network, Open Path has connected more than 30,000 clients with affordable psychotherapeutic care. Additionally, more than 36,000 students have signed on to take one of their affordable online wellness classes. Open Path will use its donation from TherapyAppointment to support additional psychotherapeutic care programs and mental health classes for those in need.
"The Gift from TherapyAppointment will enable us to put more care and attention into this critical component of our mission," said Paul Fugelsang, the founder and Executive Director of the nonprofit.
An innovative electronic medical records solution, Dr. William Whitehead created TherapyAppointment to meet the unique needs of therapists, counselors and other practitioners in the field of mental health by improving workflow and office efficiency. This allows providers to devote more time to provide therapy services to patients.
"We are grateful to be able to support these organizations as a part of our overall mission to facilitate the delivery of mental health services," said Dr. Whitehead.
About TherapyAppointment
TherapyAppointment, a cloud-based practice management solution, is committed to improving processes in scheduling, appointment reminders, charting, notes, billing, insurance, and more for mental health clinics. Trusted by thousands of practitioners nationwide, TherapyAppointment puts the focus back on mental health patients by minimizing the time spent on paperwork and other practice management tasks.
For more information, please visit TherapyAppointment.com, or connect with TherapyAppointment on Facebook or Twitter.
Media Contact
Company Name: TherapyAppointment
Contact Person: Harpreet Cheema
Email: Harpreet@therapyappointment.com
Phone: 800-242-2127
Address: 181 Oren Dr., Mills River, Asheville NC 28756
Country: United States
Website: TherapyAppointment.com