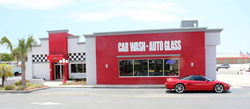 NEW PORT RICHEY, Fla. (PRWEB) May 22, 2019
Although nearly everybody strives to make their communities and world around them a place of equal opportunity, disadvantages often present seemingly insurmountable obstacles to those seeking to build a meaningful and focused life for themselves.
These hardships and disadvantages can; however, provide opportunities for individuals to inspire others by rising above them and succeeding in spite of having numerous reasons and thousands of excuses not to. They can also be opportunities for communities to rally around those negatively affected by these disadvantages and prove how strong the bonds are within that community.
One such individual who has displayed inspiring levels of perseverance and resilience is Asria Canada, a young woman who lives in Pasco County. Having been on her own since age 14, Asria Canada spent some of the toughest academic years a student faces staying with friends and then getting a job at only 16 years old.
Since then, she has gone on to graduate and move into the next chapter of her life.
Working alongside the Marjorie's Hope – a local non-profit organization that aims to help children in Pasco county – and George's Wholesale Tires – another local business, Friendly Kia staff have worked to honor the courage and determination of Canada by gifting her with a car, gift cards for maintenance, free oil changes and car insurance for six months.
Prouder than ever before of the community in which they live and serve, the staff at Friendly Kia have published an article to the dealership's website sharing Canada's inspiring story and thanking the community for being such a wonderful and welcoming place that comes together to lift up portraits of perseverance like Canada.
Community members seeking more information on Friendly Kia's community involvement are encouraged to contact the dealership directly by calling 877-544-6719. Friendly Kia is located at 5819 U.S. Highway 19 in New Port Richey.