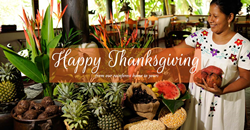 The things we have to be grateful for continue to grow.
SAN IGNACIO, Belize (PRWEB) November 12, 2019
Belize's The Lodge at Chaa Creek has announced that booking are still available for the popular Belizean eco-resort's annual "Thanksgiving In Belize" vacation packages.
While some people may be surprised to hear that Thanksgiving is enthusiastically celebrated in Belize, it's been no secret at Chaa Creek, where the annual celebration has become an established tradition over the years.
And once again this year, the popular Belize jungle eco-lodge is inviting families, couples, groups and individuals to join in with all-inclusive Belize Vacation Packages that combine a traditional Thanksgiving with many of the things that make Belize such a unique, exciting travel destination, Chaa Creek's owners say.
"We had our first Thanksgiving with family and neighbours to give thanks and celebrate one of our first harvests when Chaa Creek was just starting out as a farm almost forty years ago," Lucy Fleming recalls.
"Since then, we've added more places at the table, more dishes and more activities as the number of guests – and things we have to be grateful for, continue to grow," she added.
Ms Fleming said, that in keeping with Chaa Creek's original Belize Thanksgiving, this year's feast will feature roast turkey with all the traditional trimmings, as well as local dishes that reflect Belize's Maya, Mestizo, Creole, Garifuna, East Indian and other cultures.
"So look for turkey, mashed potatoes and gravy as well as tamales, rice and beans, and an eclectic mix of cultural cuisines," she said.
Lucy and her husband Mick had originally leased an overgrown citrus orchard on the banks of the Macal River in western Belize just prior to the former crown colony of British Honduras becoming an independent nation.
Back then, no one expected that Belize would become a popular tourism destination, or that the Fleming's small farm would become the country's premier eco-resort.
"Like most people in Belize at the time, we were focussed on just getting by," Ms Fleming said.
In the following years, the Flemings built simple one-room cabins with materials sourced from the surrounding jungle to accommodate the growing number of visitors to the area. Over time, through positive word of mouth and the rapid growth of social media, the little country and its fledgling eco-resort experienced dramatic growth.
Today, The Lodge at Chaa Creek features Belize's widest range of accommodations, ranging from the rustic Belize Rainforest Retreat to the luxurious, butler serviced Ix Chel and Tree-Top Villas. In between sit the signature "Cottage Collection" of thatched-roof, artistically appointed rooms, and an impressive selection of suites and villas.
Amenities include the Mariposa Restaurant and Jungle Lounge, an infinity pool, Hilltop Spa, fully serviced conference centre, stables, and the Open Hearth kitchen where culturally attuned cooking classes are conducted throughout the week.
All accommodations come with complementary activities such as early morning birding walks, guided tours of the onsite Belize Natural History Museum and Butterfly Farm, canoeing along the Macal River, guided or self-guided nature walks along the miles of trails crisscrossing the resort's 400-acre private nature reserve, and more.
Chaa Creek also offers horseback riding, jungle and river safaris, and an extensive menu of tours and expeditions that cover Belize from the country's unspoiled Caribbean reef, islands and coastline to the western border and into Guatemala.
Even after such dramatic growth, the spirit of that original Thanksgiving remains unchanged, Ms Fleming said.
"We still have so much to be grateful for, from the friends and family around us, the beauty of the environment, and the countless blessings we receive each and every day," Ms Fleming said.
"While we never dreamed that Belize or Chaa Creek would become so popular, we've never lost sight of the fact that it's the stunning natural environment and warm friendly people we're surrounded with that makes it all possible.
"We've also been fortunate that our national commitment to sustainable tourism and responsible travel attracts the sort of visitors we're so fortunate to host.
"The vast majority of families, couples, groups and individual guests we receive are interested in Belize's environment, cultures, ancient Maya heritage and all those things that attracted us here in the first place, and make living in and visiting Belize such a fascinating and satisfying experience.
"Combine all of that, and you can see how much we have to be grateful for, and why Thanksgiving is so important to so many of us," Ms Fleming said.
Chaa Creek's Thanksgiving in Belize all-inclusive Belize vacation packages include, for one set price, eco-luxe accommodations, all meals, pick up and drop off at Belize's international airport with a visit to the Belize Zoo, and a selection of activities.
Ms Fleming said last minute bookings are still available, and encouraged people to contact their travel agents or Chaa Creek directly for further information and reservations.
The Lodge at Chaa Creek is a multi-award winning eco resort set within a 400-acre private nature reserve along the banks of the Macal River in Belize. It was recognised by National Geographic with first place honours at the 2017 World Legacy Awards held in Berlin.