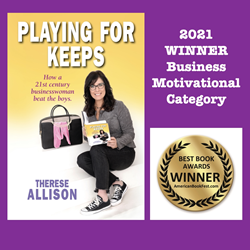 Aim high and refuse the word 'No.' If you use an 'I CAN' attitude when pursuing your passions, you will be successful. - Therese Allison, Award-Winning Author, 'Playing for Keeps: How a 21st century businesswoman beat the boys!'
HUNTINGTON BEACH, Calif. (PRWEB) January 12, 2022
Award-Winning Author, Mom and Mentor Therese Allison is honored to receive the 2021 Best Book Award for the Business: Motivational category for her self-help memoir, "Playing for Keeps - How a 21st century businesswoman beat the boys!" This entertaining book is filled with fun stories that will make you laugh, along with success tips for life and business from a female leader who broke all the barriers from the playground to the boardroom. To celebrate these book awards and help others, Allison is gifting her "Playing for Keeps" eBook version for $0.00 on Amazon from Wednesday, January 12 – Friday, Jan 14, 2022.
In addition to this top Best Book Award, "Playing for Keeps" was recognized as a "Finalist" in four other categories, including: Non-Fiction Inspirational, Art, Self-Help Motivational and Spiritually Inspirational.
Allison's five Best Book Awards demonstrate the many layers in this engaging and educational book that features her 16 "Pearls of Wisdom", Lucy Moment stories, Synchronicity Power and meaningful art by Allison's dad, Gould Allison, with motivational messages. One book reviewer described it this way, "It reads like Fiction, but it's not!"
With appreciation, Allison reflected, "What an honor it is to go up against giants in the industry and come out with multiple awards. I am grateful to be in good company, as past winners include Amy Tan ("Joy Luck Club"), Rhonda Byrne ("The Secret"), Anne Geddes, George Saunders, Clive Barker and numerous 'New York Times' Bestsellers."
American Book Fest President and CEO Jeffrey Keen, praised all of the authors who entered this year, "Thank you to the thousands of authors, publishers and other industry professionals that participated in the 2021 Best Book Awards annual national awards. Congratulations to all of the Winners & Finalists for their much deserved recognition!"
Winners and Finalists in 120+ categories included books published by HarperCollins, Penguin Random House, John Wiley and Sons, Macmillan Publishers, NYU Press, Oxford University Press, John Hopkins University Press and hundreds of Independent Houses who contributed to this year's outstanding competition!
Allison's book title "Playing for Keeps" was inspired by skills she learned playing competitive sports in school (CIF Tennis Champions, volleyball, majoring in Physical Education in college and more). Using the same "Winning" approach in business, Allison became the first female producing Partner in an insurance brokerage company tied to Lloyd's of London where for 300 years women weren't allowed on the underwriting floor. After becoming a Partner, Allison later became financially independent at age 38 and retired early at 43 when her company (McKenna & Associates) was sold to AON.
As a mom and mentor, Allison encouraged her children to play sports, and learn the importance of strategy, visualization, and paying your dues. When her children encouraged Allison to write her career success story and family history to help others thrive, the author decided to write this self-help memoir now, despite the pandemic.
In addition, Allison began mentoring men and women to succeed in business and life. One reader wrote, "After reading 'Playing for Keeps', I went through several rounds of interviews for two DA's offices. Out of 100 applicants, I was fortunate to be offered both jobs. The whole time I was thinking about your tips to success, especially at times when I was the only female in the room." – Kaitlin R.
Reflecting on these book awards and her success path, Allison emphasizes, "When you recognize that your success is not all about you, the world will fall in sync at your feet. It's about helping others". And because anything in life takes time to master, Allison adds, "Aim high and refuse the word 'No.' If you use an 'I CAN' attitude when pursuing your passions, you will be successful."
American Book Fest – 2021 Best Book Awards Winners
http://www.americanbookfest.com/2021bbapressrelease.html
"Playing for Keeps – How a 21st century businesswoman beat the boys!"
Winner - Business Motivational
Finalist - Non-Fiction Inspirational
Finalist - Art
Finalist - Self-Help Motivational
Finalist - Spiritually Inspirational
AMAZON
"Playing for Keeps: How a 21st century businesswoman beat the boys" (2020)
https://www.amazon.com/PLAYING-KEEPS-century-businesswoman-boys/dp/1735088609
MEDIA CONTACT:
Liz Kelly, 310-987-7207
ABOUT THE AUTHOR: THERESE ALLISON (Huntington Beach, CA, grew up in La Canada, CA near Hollywood, born in Hollywood) is a self-made success story, mom and Author of "Playing for Keeps – How a 21st century businesswoman beat the boys" (self-help memoir) who empowers women and men to succeed in business and life. To help others learn from her journey, Allison openly shares how she became financially independent at age 38, and retired early at 43 to spend quality time with her children. Today, Allison is busy mentoring her three children and others to succeed. Her work has been seen in the Los Angeles Times, MSN, GoBankingRates, Yahoo! Finance, Bizwomen: The Business Journals, Yahoo! Sports, Shout Out LA, Authority Magazine, Thrive Global, VoyageLA, Girls on the Air Show (KVTA News Talk 1590/ABC Radio Affiliate), Great Books Great Minds, A Dime Saved, many podcasts, including: Healing Powers Podcast, Get Clients Now Podcast, The Polished Woman, Empowered Within with Jennifer Pilates, Defying the Status Quo with Rene Banglesdorf and more. http://thereseallison.com.