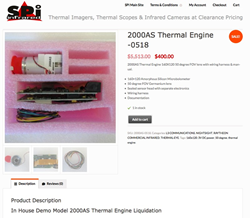 The cost of thermal imaging cameras should be low for everyone.
Las Vegas,NV (PRWEB) June 22, 2014
SPI Corp is a leading manufacturer and distributor of thermal imager and thermal imaging systems to Law Enforcement and Military professionals. They have resources dedicated to manufacture of new units as well as refurbishment and repair of existing fielded systems.
"The cost of thermal imaging cameras should be low for everyone," stated Randall Kolchins, Director SPI CORP. "We have mandated that our company release all wholesale, liquidation, closeout and refurbished thermal imager and infrared camera direct to the public". Mr. Kolchins went on to say, "Our new online site http://www.spi-wholesale.com is the only place ordinary customers can get access to low cost thermal imaging and infrared cameras".
The new site has a variety of thermal products already listed and they promise that more will be posted everyday. Many of the thermal imagers and infrared cameras are one only in stock. They seem to range from new old stock products to "demo" models and refurbished gear. On last visit to spi-wholesale.com we noted thermal engines, thermal cores and MWIR 3-5 micron thermal imagers. Some products where listed as being 90% off original MSRP. The site promises to be a valuable resource for consumers looking to purchase low cost thermal imagers at liquidation prices.
SPI Corp has been in the business of manufacturing and distributing thermal imaging solutions for well over a decade. Existing products include the M5 pan tilt systems and the M1-D UAV thermal PTZ as well as thermal scopes and infrared cameras.
Potential customers interested in learning more about wholesale thermal imagers or for purchasing options including the entire line of low cost thermal scope solutions offered by SPI Corp can visit http://www.spi-wholesale.com. Customers seeking immediate attention regarding these products should contact Jim Santana at 702-369-3966.