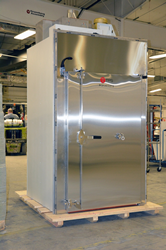 "Gruenberg products are designed to meet the highest standards of safety specifications. These truck-in ovens were designed to accommodate the customer's loading trucks and trays for the drying of very sensitive medical devices encased in pouches." – Denny Mendler, Gruenberg Product Manager
NEW COLUMBIA, Pa. (PRWEB) May 23, 2019
Thermal Product Solutions, a global manufacturer of thermal-processing equipment, announced the shipment of three (3) Gruenberg Cleanroom Truck-In Ovens to the Medical Industry.
These Gruenberg walk-in ovens have maximum temperature ratings of 71°C and work chamber dimensions of 42" W x 48" D x 72" H. The Gruenberg truck-in ovens were constructed from a structural steel frame that supported the 304L stainless steel interior chamber liners and the exterior 304 #4 polished stainless-steel faces with the remainder primed and painted. All interconnecting struts are non-continuous which keeps the exterior cool.
The front-loaded truck-in ovens utilize horizontal airflow, which maximizes heating rates and temperature uniformity of the product load. A circulation blower located in a conditioning plenum chamber on the top of the oven directs air through perforated panels on one side of the chamber and flows horizontally across the product. The air exits the work chamber on the opposite wall back through the steam coil for reheating and recirculation.
"Gruenberg products are designed to meet the highest standards of safety specifications. These truck-in ovens were designed to accommodate the customer's loading trucks and trays for the drying of very sensitive medical devices encased in pouches." – Denny Mendler, Gruenberg Product Manager
Unique features of these Gruenberg truck-in ovens include:

Steam heat
Fully welded 304L stainless steel interior liner
Powered exhaust
Air exhaust HEPA filter
Intake air pre-filter
Intake air HEPA filter
Remote NEMA 4X control panels
Interconnecting wire harnesses
Special wall closure trim panels
Fully insulated floor with recessed floor tracks
Temperature uniformity of +/-5°C at 60°C
Watlow F4T temperature controller
High limit thermostat
Man-in power disconnect
USB and ethernet ports
Magnehlic differential pressure gauges across the HEPA filters
About Gruenberg
Gruenberg, a division of Thermal Product Solutions, LLC, is recognized as a leader in the design and manufacture of a comprehensive line of standard and custom industrial batch and conveyor ovens that accommodate temperatures up to 1200⁰F. Gruenberg products are known for their durability, innovation, and superior performance. Additional products offered by Gruenberg include custom pharmaceutical ovens, depyrogenation ovens, granulation dryers, pharmaceutical sterilizers, and lab animal science sterilizers.
About TPS
Thermal Product Solutions ("TPS"), is a leading American manufacturer of industrial ovens, furnaces, pharmaceutical sterilizers, and environmental temperature cycling and stability test chambers. TPS is a global leader in thermal processing products and test solutions with brands including Baker Furnace, Blue M, Gruenberg, Tenney, Lindberg, Lunaire, MPH, and Wisconsin Oven. For more information on equipment solutions from TPS visit the website at http://www.thermalproductsolutions.com.