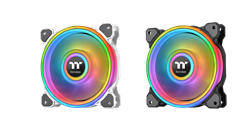 LAS VEGAS (PRWEB) January 07, 2020
Thermaltake, the leading premium brand of DIY PC components for Cooling, Gaming Gear and Enthusiast Memory solutions has announced Riing Quad 12 RGB Radiator Fan and Riing Quad 14 RGB Radiator Fan, the world's first 16.8 million 4-ring design radiator fan with 54 addressable RGB LEDs. Supports NeonMaker Light Editing Software and TT RGB PLUS Software, up to 20 of Riing Quad RGB Radiator Fan can be controlled at the same time. The Riing Quad works with Amazon Alexa and can Sync with Razer Chroma Lighting as well as Thermaltake AI Voice Control. With a 9-Blade High-Airflow design, the Riing Quad utilizes 120mm and 140mm high-static pressure blade design, long-life hydraulic bearing and a PWM controlled motor to deliver remarkable acoustic and cooling performance to elevate the aesthetics of custom PC build.
The NeonMaker Light Editing Software is a new advanced approach for adjusting RGB colors and effects on Riing Quad and offers a 16.8 million color palette with multifunction panel. It allows users choose from over 200 different lighting effects and access to further customizable lighting options such as variation timelines and the direction of lighting cycles. Share the lighting profile with friends and allow them to merge multiple lighting effects into a single profile and modify the lighting timeline until they are satisfied with the order. All will drag and drop.
Combined the inner and outer light loops contain 54 LEDs, the Riing Quad can deliver detailed and colorful lighting effects that will impress from any angle. High-Airflow 9 Fan Blade allows stronger flow, while the hydraulic bearing provides a sustainable and silent operation. Using TT RGB PLUS Software, lighting schemes switch between 16 "Light Mode", Twinkle, Firefly, Heartbeat, Stack, Roundabout, Swirl, Copy Color, Full Lighted, Sound Control, Flow, RGB Spectrum, Ripple, Blink, Pulse, Wave, and Thermal, along with 3 "Color Modes", RGB, Single and Off, as well as 4 "Light Speeds", Slow, Normal, Fast and Extreme.
Thermaltake AI Voice Control allows users to control lights on Riing Quad easier and faster by talking to TT RGB PLUS App. Ask it to turn the lights on or off, switch lighting modes, dim the lights, change light colors, or adjust lights/fan speeds. The Riing Quad also works with Amazon Alexa Voice Service, allowing users to control the lights or fan speeds by talking to any Alexa-enabled devices, offering a visual cue of current weather conditions in your location or anywhere in the world. All you have to do is say "Alexa, tell Thermaltake," and the lighting color will change to match the weather condition. The Ring Quad can also connect to Razer Chroma products providing synchronized gaming and RGB lighting effects on any Riing Quad equipped gaming systems and Razer gaming gear when gamers install both TT RGB PLUS Software and Razer Synapse 3.
The Riing Quad radiator fans are available for purchase in late January 2020., A 3-pack of Riing Quad 120mm fans are $149.99, and 140mm fans at $159.99. The Riing Quad is backed by a two-year warranty with the Thermaltake worldwide customer service and technical support network.
Product image download: https://bit.ly/2Fil2Fg
About Thermaltake
Thermaltake launched in 1999, first specializing in air cooling and successfully debuting the world's first turbine air cooler, the "Golden Orb". Since then, Thermaltake has taken the world by storm and become the leader in computer hardware and peripherals in the DIY PC market. Homing in on their 3 main lines ("Key 3"), Thermaltake delivers seamless cases, power supplies, and cooling products.
The "Key 3 Spirit" represents Thermaltake's promise toward its users; the promise to provide products that display "Quality Performance & Reliability". The "Key 3 Spirit" is the foundation for all Thermaltake products, and is the reason for Thermaltake's continuous success worldwide. Learn more at http://www.thermaltake.com
About TT Premium
TT Premium offers the most comprehensive liquid-cooling and modding online shopping experience. The platform yields exceptional high-end products and services to customers around the world. Thermaltake TT Premium includes several case modding products that support VR gaming systems. All products are backed by Thermaltake's core values: excellent quality, unique design, diverse combinations, and boundless creativity. Thermaltake TT Premium has expanded its footprint to 100+ countries and territories by creating a seamless network connecting 5 markets: the U.S., Europe, Australia, Taiwan, and China. Learn more at http://ttpremium.com/
Follow Thermaltake Global
Facebook: https://www.facebook.com/ThermaltakeInc/
Instagram: https://www.instagram.com/thermaltake_global/
Twitter: https://twitter.com/ThermaltakeInc
YouTube: https://www.youtube.com/user/Thermaltakereview
Website: https://www.thermaltake.com/
Follow Thermaltake USA
Facebook: https://www.facebook.com/ThermaltakeNA/
Instagram: https://www.instagram.com/thermaltakeusa/
Twitter: https://twitter.com/Thermaltake
YouTube: https://www.youtube.com/channel/UCpZZZitBcdR4cItBVGKNvYg
Website: https://www.thermaltakeusa.com/
LCGS: https://lcgs.thermaltakeusa.com/
Media Contact
Andrew OuYang
iDée Creatives Marketing Consulting Inc. on behalf of Thermaltake USA
andrewouyang@ideecreatives.com