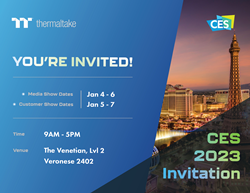 WALNUT, Calif. (PRWEB) December 21, 2022
Thermaltake, the leading PC DIY premium brand for Case, Cooling, Gaming peripherals, and Enthusiast memory solutions, will be kicking off the new year at the 2023 Consumer Electronics Show (CES). Thermaltake is ready to deliver the latest chassis, power, cooling, memory, and gaming solutions to PC DIY enthusiasts, modders, and gamers worldwide. The Thermaltake CES 2023 Exhibition will take place at the Venetian Resort Hotel Las Vegas, Lvl 2, Veronese 2402 Suite, from January 4th to the 7th.
New Product Highlights
● Gaming PC Cases with Centralized Thermal Efficiency (CTE)
● Ceres Gaming PC Cases
● Power Supplies with expanding ATX3.0 solutions
● Multi-blade and magnetic connect PC cooling Fans
● CYCLEDESK 100 Smart Gaming Desk
● More high-performance PC gaming components
Thermaltake, a pioneer in PC cooling innovation, is introducing a new event theme, "Stay Cool, Game On," which focuses on bringing users cutting-edge thermal advancements. In recent years, the demand for high-performing PCs has skyrocketed to fulfill the heavy workloads required for hardcore gaming, professional streaming, and video editing. These PCs require the most advanced cooling solutions. Thermaltake's team of engineers has developed new technologies and software that will revolutionize traditional PC DIY & cooling. Besides cooling-centric designs, visitors can expect to see PC MOD masterpieces from the world's top modders and other innovations on show. Meanwhile, Thermaltake will host several prize giveaways. More details can be found on Thermaltake's social media.
Media, industry analysts, influencers, and YouTubers are welcome to visit and experience innovative new products. Meeting by appointment, please get in touch with Andrew Ouyang on behalf of Thermaltake USA at andrewouyang@ideecreatives.com.
【Thermaltake at CES 2023】
■ January 4th to 7th, 9 AM - 6 PM
■ The Venetian Resort Hotel Las Vegas, Lvl 2, Veronese 2402
About Thermaltake
Thermaltake Technology was established in 1999 and has been marketed worldwide under the Thermaltake brand name ever since. With the mission to "Deliver the perfect user experience," Thermaltake has since become the leading brand in Gaming Computer Hardware: from chassis, power supply units, cooling systems, and memory modules to gaming PCs, gaming peripherals, and gaming furniture. Thermaltake is the leader in the PC DIY, Case Mod & Gaming Market and is the number one choice for Gamers, Modders & PC DIY Enthusiasts worldwide.
Official website: https://www.thermaltakeusa.com
Follow Thermaltake USA
Facebook: https://www.facebook.com/ThermaltakeNA
Instagram: https://www.instagram.com/thermaltakeusa
Twitter: https://twitter.com/Thermaltake_NA
YouTube: https://www.youtube.com/c/ThermaltakeNorthAmerica
TikTok: https://www.tiktok.com/@thermaltakena
LCGS (Liquid Cooling Gaming Systems): https://lcgs.thermaltakeusa.com