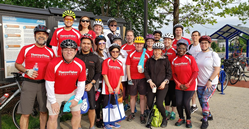 "As Americans look for ways to move around safely, it's communities and businesses offering solutions that enable people to more easily go places by bike." - Bill Nesper, Executive Director, League of American Bicyclists
FREDERICK, Md. (PRWEB) August 31, 2020
The League of American Bicyclists recognized Thermo Fisher Scientific with a Gold Bicycle Friendly Business (BFB) award, earning it a place alongside over 1,400 businesses across the country contributing to the movement to build a more Bicycle Friendly America. Thermo Fisher Scientific is the first Gold BFB in Frederick County and one of ten Gold BFB in the State of Maryland. There are over 240 Gold BFB across the US.
"Since Thermo Fisher Scientific applied for the Bicycle Friendly Business award in February 2020, much has changed across the country," said Bill Nesper, executive director of the League of American Bicyclists. "What hasn't changed is the commitment of our Bicycle Friendly Business award winners to the health and well being of their employees, customers, and community through the promotion and encouragement of bicycling as a means of transportation, fun, and fitness."
Thermo Fisher Scientific joins 75 other new and renewing BFBs in the League's Spring 2020 round of business awards, which includes government agencies, Fortune 500 companies, bike shops, and other employers across industries, all united in a commitment to transform American workplaces to be more welcoming to customers and employees who bike. The Bicycle Friendly Business award recognizes an organization's contributions over months and years to the movement to build a Bicycle Friendly America for everyone.
"As Americans look for ways to move around safely, it's communities and businesses offering solutions that enable people to more easily go places by bike," said Nesper. "We know more people are biking during the pandemic and we anticipate more Americans will rely on biking to work as a safe, socially distant method of transportation as employees go back to work. Thanks to the leadership of organizations like Thermo Fisher Scientific, more people will have the opportunity to choose to bike."
Thermo Fisher Scientific encourages bicycling as an easy option for transportation and provides amenities such as Thermo Fisher Scientific bikeshare bikes, indoor/outdoor bicycle racks, and shower facilities. In addition, Thermo Fisher Scientific hosts a wide range of activities such as bike maintenance workshops, youth bike safety education workshops, corporate bike challenges, bike collection/donation, lunch bike rides, and adventure cycling trips. To encourage ridership, Thermo Fisher Scientific offers incentives such as gift cards, customized sport shirts, Nalgene water bottles, and highly prized Thermo Fisher Scientific cycling jerseys. Finally, Thermo Fisher Scientific has been actively engaged with local government officials and bicycle advocates to make the City of Frederick and Frederick County a more bike-friendly region.
Bill Turner, the site director at Thermo Fisher Scientific Frederick, remarked "The Frederick Cycling Leadership Team has done a really great job inspiring our staff to get out and ride including a fun multi-day ride on the Great Allegheny Passage, lively bike flash mobs at local restaurants, dedicated corporate sponsorship of Tour de Frederick and the competitive annual Bike To Work Day ride. Though we slowed a bit this year due to COVID-19, we are really looking forward to getting even more people on bikes next year."
As part of the BFB network, Thermo Fisher Scientific will have access to a variety of tools and technical assistance from the League to become even more welcoming to people who bike. When employees bike, great things happen like increased staff morale and productivity, increased connectedness to the Frederick community, decreased carbon footprint, reduced healthcare costs, and a fun and healthy work culture.
To learn more about the BFB program, or to apply, visit the League online at http://www.bikeleague.org/business.
About the Bicycle Friendly America Program
To learn more about building a Bicycle Friendly America, including the Bicycle Friendly Community® (BFC), Bicycle Friendly State® (BFS), Bicycle Friendly Business® (BFB), and Bicycle Friendly University® (BFU) programs, visit http://www.bikeleague.org/BFA.
The League of American Bicyclists leads the national movement to create a Bicycle Friendly America for everyone. With a history dating to 1880, the League is committed to engaging diverse communities and building a powerful, unified voice for change around protecting and promoting bicyclists' rights. Learn more at http://www.bikeleague.org.