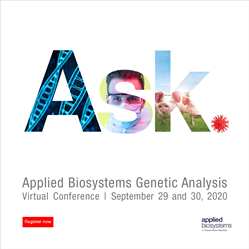 WALTHAM, Mass. (PRWEB) September 28, 2020
Serving as an opportunity to engage with fellow scientists in various genetic analysis fields, the Applied Biosystems Genetic Analysis virtual conference is being held virtually September 29–30, 2020, on the LabRoots platform, starting at 6am PDT, 9am EDT, 2pm BST, 3pm CEST, 4pm EEST.
Across the two days, a line-up of more than 30 leading researchers and scientists will share expertise on a wide variety of topics including, COVID-19 testing, infectious disease research as well as SARS-CoV-2, clinical oncology and cancer research, reproductive health and inherited disease research, polygenic risk scores and population health, pharmacogenomics, agrigenomics, and animal health.
Key education points for attendees (with credits awarded) will include:

Learn about TaqPath COVID-19 testing solutions, the impact flu season may have, and how Applied Biosystems are helping 'back to life' efforts.
Learn from clinical oncology and cancer research experts about the importance of chromosomal microarrays, MSI analysis, and immuno-oncology research.
Learn what it takes to achieve widespread adoption of polygenic risk scores in the clinic.
In addition to the talks and poster sessions, this event is an opportunity to ask questions surrounding genetic analysis research. There will be an Ask an Expert networking lounge, instrument demonstration hall, and exhibit hall showcasing Applied Biosystems research technologies such as real-time PCR, Sanger sequencing, microarray analysis, and others.
Geoffrey Cassell, PhD, Senior Market Development Manager at Thermo Fisher commented, "We are really excited to connect with other scientists during this time, and to offer this engaging opportunity to our customers."
To view the full agenda and to register for the event, click here.
About Thermo Fisher Scientific
Thermo Fisher Scientific's mission is to enable our customers to make the world healthier, cleaner and safer. Whether our customers are accelerating life sciences research, solving complex analytical challenges, improving patient diagnostics and therapies or increasing productivity in their laboratories, we are here to support them. Our global team of more than 75,000 colleagues delivers an unrivalled combination of innovative technologies, purchasing convenience and pharmaceutical services through our industry-leading brands, including Thermo Scientific, Applied Biosystems, Invitrogen, Fisher Scientific, Unity Lab Services and Patheon.
About LabRoots
LabRoots is the leading scientific social networking website, as well as a primary source for scientific trending news, premier educational virtual events/webinars and more. Contributing to the advancement of science through content-sharing capabilities, LabRoots is a powerful advocate in amplifying global networks and communities. Founded in 2008, LabRoots emphasizes digital innovation in scientific collaboration and learning. Offering articles and webcasts that go beyond the mundane and explore the latest discoveries in the world of science, LabRoots users can stay atop their field by gaining Continuing Education Credits from a wide range of topics through their participation in the webinars and virtual events.