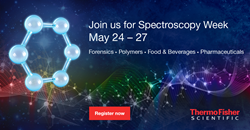 WALTHAM, Mass. (PRWEB) May 14, 2021
Thermo Fisher Scientific to hold "Spectroscopy Week: Virtual Users Meeting" on May 24th-27th, 2021, on the Labroots platform. It is a chance to see practical demonstrations from scientists in the field of spectroscopy.
Thermo Fisher Scientific's "Spectroscopy Week: Virtual Users Meeting" will offer:

How spectroscopy and other characterization tools are used in forensics, polymers, food & beverage, pharmaceuticals, for the rapid development and analysis of innovative materials
With these tools, labs can identify dangerous substances, support polymer innovation, ensure the safety and enjoyment of our food, and deliver effective medicines
Practical demonstrations will be given throughout each day's program
And more!
Professionals will be brought together for Thermo Fisher Scientific's event. Expect each day to conclude with a live networking – Q&A Session that will serve as an opportunity to engage with others in the field.
To register for the event, and view the agenda and speakers, click here.
About Thermo Fisher Scientific:
Thermo Fisher Scientific Inc. is the world leader in serving science, with annual revenue exceeding $25 billion. Our Mission is to enable our customers to make the world healthier, cleaner and safer. Whether our customers are accelerating life sciences research, solving complex analytical challenges, improving patient diagnostics and therapies or increasing productivity in their laboratories, we are here to support them. Our global team of more than 75,000 colleagues delivers an unrivaled combination of innovative technologies, purchasing convenience and pharmaceutical services through our industry-leading brands, including Thermo Scientific, Applied Biosystems, Invitrogen, Fisher Scientific, Unity Lab Services and Patheon. For more information, please visit http://www.thermofisher.com.
About Labroots:
Labroots is the leading scientific social networking website, and primary source for scientific trending news and premier educational virtual events and webinars and more. Contributing to the advancement of science through content sharing capabilities, Labroots is a powerful advocate in amplifying global networks and communities. Founded in 2008, Labroots emphasizes digital innovation in scientific collaboration and learning. Offering more than articles and webcasts that go beyond the mundane and explore the latest discoveries in the world of science, Labroots users can stay atop their field by gaining continuing education credits from a wide range of topics through their participation in the webinars and virtual events.