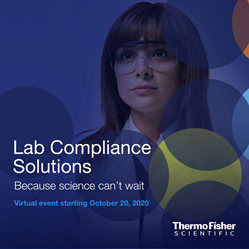 WALTHAM, Mass. (PRWEB) October 13, 2020
Serving as a unique opportunity to engage with global scientists and clinicians, the Thermo Fisher Scientific: Lab Compliance Solutions Virtual Event will help expand the understanding of qualifications and validations as industry standard accepted processes supporting regulatory guidance and quality systems compliance in the laboratory environment The event will be held on October 20, 2020, at 5:30 AM PDT.
Throughout the day, a line-up of 8 leading compliance and industries professionals will share their personal expertise on topics ranging from:

Performing computer system validation, what is involved, how frequently it should be performed and the benefits it can have to help meet FDA regulations and quality standards
The importance of clinical labs following guidance provided by CAP for onboarding new NSG based clinical tests
How to mitigate the risk of potential non-compliance as you return to the lab or transition instrumentation to meet new demands with operational qualification and requalification services
The purpose for performing Analytical Validation as part of the larger process validation efforts for a laboratory workflow for clinical tests
The importance of performing instrument qualifications, their value as documentation in process validation, and the importance of maintaining a quality system
Some key education points for registrants who attend this free virtual event will include:

Learn why computer system validation (CSV) is important and how it supports compliance
Learn about and recognize the requirements from CAP outlined in the CAP checklist when onboarding new NGS tests
Learn why qualifications (IQ, OQ, PQ) are important and when they are required
Learn and identify noncompliant validation issues that are common to many molecular laboratories performing NGS-based testing
Learn about the range of qualification capabilities that provide improved productivity, single-vendor convenience, and an industry-exclusive, no-charge requalification guarantee
To view the full agenda, learn more about speakers, or to register for the Thermo Fisher Scientific: Lab Compliance Solutions Virtual Event, click here.
About Thermo Fisher Scientific
Thermo Fisher Scientific's mission is to enable our customers to make the world healthier, cleaner and safer. Whether our customers are accelerating life sciences research, solving complex analytical challenges, improving patient diagnostics and therapies or increasing productivity in their laboratories, we are here to support them. Our global team of more than 75,000 colleagues delivers an unrivalled combination of innovative technologies, purchasing convenience and pharmaceutical services through our industry-leading brands, including Thermo Scientific, Applied Biosystems, Invitrogen, Fisher Scientific, Unity Lab Services and Patheon.
About LabRoots
LabRoots is the leading scientific social networking website, as well as a primary source for scientific trending news, premier educational virtual events/webinars and more. Contributing to the advancement of science through content-sharing capabilities, LabRoots is a powerful advocate in amplifying global networks and communities. Founded in 2008, LabRoots emphasizes digital innovation in scientific collaboration and learning. Offering articles and webcasts that go beyond the mundane and explore the latest discoveries in the world of science, LabRoots users can stay atop their field by gaining Continuing Education Credits from a wide range of topics through their participation in the webinars and virtual events.