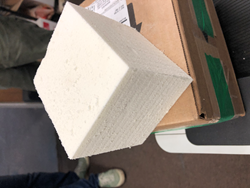 NEW CANAAN, Conn. (PRWEB) February 13, 2020
Thermoseal, llc, a leader in the spray foam industry and the manufacturer of Thermoseal brand spray foam insulation, announced today that after 2 years of research, development and 3rd party testing that it has received its IAPMO Evaluation Report ER-698 for its HFO based Thermoseal 5G closed cell spray foam insulation.
Thermoseal's objective was to keep up with the latest spray foam technologies for nationwide code compliance and product acceptance.
Thermoseal 5G is a new HFO based Ultra-High yield, Ultra High R-Value, One Pass, HFO closed cell spray foam insulation that can be sprayed up to 6 inches in one pass. Thermoseal 5G offers an R-Value of 7.1 per inch making it one of the highest R-Value HFO based closed cell spray foam currently available on the market. Thermoseal 5G has a global warming potential (GWP) of 1, which is 99.9% lower than HFC blowing agents.
Thermoseal 5G also passed its Appendix X testing with no coating required as well as the Hurricane Wind Uplift test which means it is approved for use in Hurricane zones across the USA.
"With the increased competition and ever changing code compliance issues facing the spray foam industry we realized that it was critical to stay one step ahead of the competition by offering our customers a product that meets all future code requirements while maximizing ours customers profitability" said Richard Ettinger, General Manager of Thermoseal. "After 2 years of research, development and testing we are very excited to be able to offer our customers Thermoseal 5G."
For additional information, product availability, pricing, and warehouse locations, contact Richard Ettinger, the General Manager of Thermoseal, llc, at (800) 853-1577.
About Thermoseal, llc
Thermoseal manufacturers' polyurethane spray foam insulation, roofing, and other specialty spray foam products for the residential, commercial and industrial construction industries.
For more information, contact:
Richard Ettinger Jr.
Thermoseal, llc.
PO Box 32
New Canaan, CT. 06840
Office: (800) 853-1577
Cell: (203) 644-0073
http://www.ThermoSealUSA.com