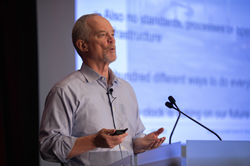 Their leaders suffocate innovation, crush experimentation, continually grind people down and drive out learning,
BOSTON (PRWEB) January 09, 2020
The beating heart of innovation and continuous improvement is learning itself, according to Jim Morgan, author and director of the Lean Product and Process Development Learning Group at the nonprofit Lean Enterprise Institute.
"We can't improve if we aren't learning," Morgan told an audience of 430 managers and executives at the recent Iowa Lean Consortium conference in a keynote about how companies are applying Lean Product and Process Development methods.
Besides heading the learning group, Morgan is COO of electric adventure vehicle startup Rivian. His latest book on new product and service development is Designing the Future, co-authored with lean management authority Jeffrey Liker.
But there are two current non-learning trends that concern Morgan. The first is an alarming rise in the popularity of the fear-driven organization.
"Their leaders suffocate innovation, crush experimentation, continually grind people down and drive out learning," Morgan said.
The second, and all too common trend, is the "been-there-done-that" company that claims it "did lean management 20 years ago." Morgan said this attitude is both ignorant and ultimately fatal because it breeds complacency, stagnation, and eventually extinction.
Product and Service Innovation Examples
Morgan, who holds a PhD in engineering, has been researching and implementing the continuous improvement principles of lean product and process development (LPPD) for more than 20 years. He illustrated the impact of learning in continuous improvement by sharing cases of what companies in the Learning Group have achieved, including these examples from a manufacturing and a service company:

A robotics company used the concept of obeya to develop an innovative new product that has captured roughly 90% market share for an articulating arm and about 60% share for the supporting robot. The new robotic system, developed in record time, cut the product's size, part count, and costs in half. Obeya, Japanese for "big room," displays information visually on its walls to serve as a transparent meeting and collaboration space for development teams.
A large healthcare system assembled a cross-functional team of doctors, nurses, and continuous improvement professionals that made extensive use of the "concept paper" principal to develop new nonsurgical clinical processes as if they were products, reducing post-surgery infections significantly. The concept paper combines what a team has learned about a potential new product or service with a compelling vision and ideas for potential solutions.
Finally, Morgan urged everyone to "find a mentor, be a mentor. It will help your lean journey." There is more about Morgan's remarks on the Lean Post blog: https://www.lean.org/LeanPost/Posting.cfm?LeanPostId=1109.
Lean management, based originally on the Toyota Production System, is a complete business system that develops people as problem solvers, so they continuously improve processes to provide more customer value while consuming the fewest possible resources.
About the LPPD Learning Group
The Lean Product and Process Development Learning Group, an initiative of the Boston-based nonprofit Lean Enterprise Institute, is a co-learning partnership of leaders from diverse companies that want to dramatically improve how they develop products and services. This select group has demonstrated executive commitment to lean transformations, an enthusiasm for collaborative learning where development work actually happens, and a willingness to share results with the global lean community. Learn more about the group and its conference, June 18-19, 2020, at lean.org/leanpd/.
About the Iowa Lean Consortium
The Iowa Lean Consortium is a dynamic, member-driven nonprofit dedicated to advancing lean in all sectors of the economy. Driven by members' needs, the ILC can provide the philosophy, tools, and techniques to meet today's business challenges through members serving members, including but not limited to the following sectors: manufacturing, service/transaction, businesses, education, healthcare, and government. Visit iowalean.org to learn more.