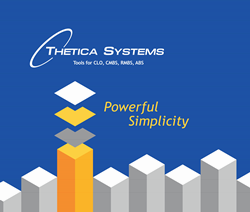 Thetica Systems is pleased to offer a single solution for all deal types with client choice of fully customizable interface.
CRESSKILL, N.J. (PRWEB) February 24, 2020
Thetica Systems has launched a new web platform for CMBS pricing and analytics tools, complementing its fully customizable cloud-based Excel system. Clients can select the platform and interface that best fit their needs to price, analyze, compare, and report on CMBS and other structured finance products. Guests at the Structured Finance Association's largest annual conference, SFVegas2020, will get the first look.
"Thetica Systems is pleased to offer a single solution for all deal types with client choice of fully customizable interface," stated Ariel Yankilevich, CEO. "Our vast library of intellectual property enables rapid use of database modules, Excel interface, and building blocks for each bond type. Components are pre-integrated so clients get their individual system with remarkable speed. We can collaborate as needed to build out reports and views or give their IT teams access to customize."
The CMBS platform can be used to quickly analyze bid lists, gather market color, perform deep analysis, comparative analysis, and run pricing scenarios, research collateral, conduct various kinds of surveillance, set loan level scenario assumptions, and generate internal and client facing reports. Clients control the requirements for access to inputs and calculations. The company reports strong user satisfaction with flexibility and transparency as the most frequently mentioned beneficial attributes.
John Schaffner, Head of Production, commented, "Our users can choose either business-friendly analytics with Excel functionality or a tightly controlled web interface, whichever best suits their individual requirements. Both approaches are fully customizable for all portfolio types, giving them a flexible system that can change with the market and their unique needs."
Thetica Systems has over a decade of experience in providing clients with custom systems for structured finance. The company supports Structured Finance portfolios and integrates a wide variety of client-licensed data. Clients include investment banks, hedge funds, accounting firms, professional services providers, asset management, brokers, dealers, and others that invest in or monitor structured finance securities. Users range from traders and trading desks, project managers, research and product controllers to risk managers, regulatory reporting, and IT.
About Thetica Systems
The company solves the buy-or-build dilemma for those who require a unique, customized, and flexible system to price, compare, analyze, and report on bonds. An experienced Intex partner, Thetica Systems can implement any business logic, models, or client-licensed data from any source for CMBS, CLO, RMBS/CRT, and ABS portfolios. The word "Thetica" was created from the Greek letter "theta," representing thought or reason, and "etica," representing ethics. Thought, reason and ethics are essential elements of any successful business and commitment to this concept is embedded in the company's name. For more information visit the company website and LinkedIn page.