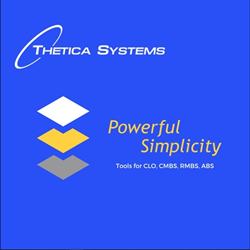 Our unique approach enables clients to respond quickly and meaningfully to shifts and stresses in the economy, the market, and their bond portfolios.
CRESSKILL, N.J. (PRWEB) January 26, 2021
Thetica Systems, an experienced provider of custom systems for structured finance pricing and analytics, reports high levels of client satisfaction during 2020. A recent survey showed 100% satisfaction with how the company assisted its clients to deal with the market effects of the COVID-19 pandemic. Clients made the heaviest use of Thetica Systems tools for trading and pricing bonds and responding to their own clients; they also gave high marks for financial value and collaboration on specialized features and custom reporting.
Senior Developer Shai Kessel summarized, "Our clients had unusual demands throughout last year for trading and pricing data that was granular and specific to how they operate. Because we can rapidly add new filters, views, and custom calculations, we quickly automated and integrated whatever was needed to refine their pricing assumptions and ad hoc reporting. This flexibility proved its value repeatedly during a tremendously challenging time."
Thetica Systems enables full transparency into a variety of bond portfolios, providing a true alternative to the usual choice of either an inflexible shelf product or the pain of a new or legacy in-house system. Clients select the platform and interface that fit their needs to price, analyze, compare, and report on CLO, CMBS, RMBS and ABS portfolios. An extensive library of intellectual property enables rapid use of database modules, Excel interface, and building blocks for each bond type. Components are pre-integrated so clients rapidly gain access to their individually customized system.
"Our tools enable clients to respond quickly and meaningfully to shifts and stresses in the economy, the market, and their bond portfolios. This versatility has always set us apart and we will be enhancing it with new functionalities and options in 2021," said CEO Ariel Yankilevich. "We let users concentrate on their business strategy and we take care of the rest."
The company has extensive experience providing structured finance clients with custom systems that are independent of any particular model or business approach. Clients include investment banks, hedge funds, accounting firms, professional services providers, asset management, brokers, dealers, and others that invest in or monitor structured finance securities. Users range from traders and trading desks, project managers, research and product controllers to risk managers, regulatory reporting, and IT.
About Thetica Systems
An experienced Intex partner, Thetica Systems solves the buy-or-build dilemma for those who require a unique, customized, and flexible system to price, compare, analyze, and report on bonds. The company can implement any business logic, models, or client-licensed data from any source for CMBS, CLO, RMBS/CRT, and ABS portfolios. The word "Thetica" was created from the Greek letter "theta," representing thought or reason, and "etica," representing ethics. Thought, reason and ethics are essential elements of any successful business and commitment to this concept is embedded in the company's name. For more information visit the company website and LinkedIn page.