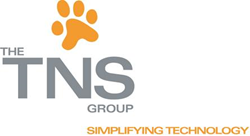 This is exciting time for The TNS Group as this marks a company milestone and is something we have been working towards for quite some time.
New York, NY (PRWEB) August 17, 2017
NEW YORK, NY The TNS Group (http://www.thetnsgroup.com), a leading Managed IT Service Provider (MSP) in the Tri-State area, announced that the company moved their New York City operations to support continued growth and an expansive client base. The new office space is located at 13 West 36th Street, New York, NY, in the heart of Midtown.
"This is an exciting time for The TNS Group as this marks a company milestone and is something we have been working towards for quite some time," said Ami Soifer, CEO and Co-Founder of The TNS Group. "Our new office space is a bright, collaborative, open setting which allows for a beneficial work environment for our current and future team members, as we continue to grow. In addition, we are eager to continue to cultivate our already strong partnerships with our New York City based clients."
The TNS Group looks forward to the strategic growth of the company overall and the ongoing development of staff and clientele. In keeping with that mantra, the company ranked amongst the elite 200 service providers globally in the MSPmentor 2017 edition of MSP 501. This is the Information Technology (IT) industry's largest and most prominent ranking of leading Managed Service Providers (MSPs).
Ami continued: "This is an ideal location that exemplifies our company culture, overall vision and work lifestyle that they are striving for in the New York City marketplace. This is one large step on a journey of many."
The TNS Group is headquartered in Stamford, CT and has a second location in Danbury. Prior to the move, TNS had offices located near Bryant Park and in the East Village. The new space mirrors TNS' client-centric approach of delivering the highest standard in IT services to businesses and nonprofit organizations on an ongoing basis.
###
Media Contact:
Erika Ellis
The TNS Group
203-316-0112 x 111
eellis(at)thetnsgroup(dot)com
About The TNS Group
Our team of dedicated, highly trained engineers and well-rounded business professionals each possess an ongoing commitment to our clients and work tirelessly to deliver superior, personalized support. Our depth of expert managed IT support services is exemplified through our ongoing achievements to maintain the highest levels of certification from our industry-leading partners. We make IT understandable, easy, and reliable.
Our clients include national businesses, companies, and nonprofit organizations headquartered in the New York City Metro Area, including Long Island, as well as Westchester and Rockland Counties, and throughout Connecticut, New Jersey, and Massachusetts.
Managed IT Services
https://www.thetnsgroup.com/managed-it-services-total-care/
Cloud Solutions
https://www.thetnsgroup.com/cloud-solutions/
Strategic Guidance
https://www.thetnsgroup.com/strategic-guidance/
The Leadership Team
https://www.thetnsgroup.com/leadership-team/