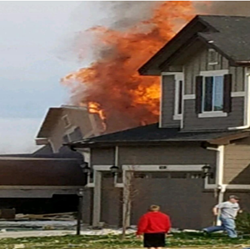 Houston, TX (PRWEB) May 24, 2017
Personal injury attorney Jason Webster, founder and principal attorney of The Webster Law Firm, along with experienced civil trial attorneys Jon C. Boesen and Richard A. Capshaw, recently filed a lawsuit (Case No. 2017CV30382 filed in the District Court, County of Weld, State of Colorado) against the producers and former producers of gas wells (defendants) adjoining the Oak Meadows subdivision in Firestone, CO.
The lawsuit, according to court documents, stems from the explosion of a residence at Oak Meadows, which sits atop the Wattenberg Field of Colorado's Denver-Julesberg Basin, one of the most prolific oil fields in the state. The explosion was allegedly caused by gas that had accumulated in the basement of the home. Court documents further state that natural gas was allegedly the source of the explosion and was reportedly traced to a leak from a flow line connected to a well currently owned and operated by the defendant.
The individual lawsuit, filed on behalf of the homeowner (plaintiff) in the Oak Meadows subdivision, seeks recovery of monetary damages for personal injuries and property damages sustained in the past and likely to be sustained in the future. The lawsuit asserts that the sounds, sights and reasonable fears arising from witnessing the explosion have caused the homeowners damage. The lawsuit also alleges that the continuing after effects and possible similar occurrences in the future constitutes a temporary, permanent and continuing nuisance and trespass.
About The Webster Law Firm
The Webster Law Firm handles a wide range of cases and has obtained many successful results. It focuses on representing individuals injured by another party's negligence. Personal injury lawyer Jason Webster is a licensed legal representative in Texas, New York, Pennsylvania, Mississippi, and Oklahoma. He is a member of the American Bar Association, State Bar of Texas, Houston Young Lawyers Association, Association of Trial Lawyers of America, Texas Trial Lawyers Association and Houston Trial Lawyers Association. For more information, please call (713) 396-5197, or visit http://www.thewebsterlawfirm.com. The law office is located at 6200 Savoy Drive, Suite 150, Houston, TX 77036.
About the NALA™
The NALA offers small and medium-sized businesses effective ways to reach customers through new media. As a single-agency source, the NALA helps businesses flourish in their local community. The NALA's mission is to promote a business' relevant and newsworthy events and achievements, both online and through traditional media. For media inquiries, please call 805.650.6121, ext. 361.