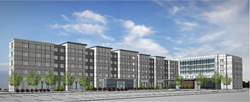 We are excited to develop our first dual-branded property in Indianapolis with brands as strong as the Residence Inn and SpringHill Suites by Marriott
Columbus, Ohio (PRWEB) August 30, 2017
The Witness Group, a premier hospitality management and mixed-use development company, has announced the signing of a dual-branded Residence Inn and SpringHill Suites by Marriott. Located just off I-465 in the Keystone corridor, this is the group's first development in the Indianapolis market. The hotel will provide an estimated 180+ guest rooms with distinct lobby spaces while having several shared amenities such as meeting space, fitness and recreation facilities, swimming pool, and a bar with outdoor fire pits. Once open, this development is estimated to create more than 50 new jobs for the local market.
The business district of Keystone at the Crossing was specifically chosen for its strong demand generators and support services, which include numerous upscale dining options and premium retail establishments. Guests will be within minutes of The Fashion Mall at Keystone, which boasts over 90 retail, salon, and entertainment shops including the Keystone Art Cinema & Indie Lounge. The property will also be situated in close proximity to over 1.2 million sq. ft. of Class A office space.
The signing of the Residence Inn and SpringHill Suites comes as part of The Witness Group's growth strategy to expand their footprint into core markets. "Witness is excited to announce our entry into the Indianapolis market with an efficient, dual-branded project," says Ohm Patel, Chief Executive Officer of The Witness Group. "We are fortunate to grow our relationship with Marriott and continue our strategy of growth through premium brands in strong markets." The dual-brand strategy is focused on optimizing operational efficiency through economies of scale, while still catering to two separate market segments. The Residence Inn will focus on business guests with extended stays wanting separate areas for dining, working, and sleeping as well as fully-equipped kitchens and grocery services. The SpringHill Suites will provide both short-term business and leisure travelers with all-suite options and dedicated workspaces. Guests will be drawn to the contemporary, yet comfortable decor and relaxing social areas.
"We are excited to develop our first dual-branded property in Indianapolis with brands as strong as the Residence Inn and SpringHill Suites by Marriott," says Aakash Patel, Chief Development Officer. "Our growth now includes 9 premium branded hotels, including developments near Purdue University in Lafayette, Downtown Columbus, and Rosslyn/Greater DC." The Witness Group expects to break ground on the project in Spring 2018 and open in the Fall of 2019.
The Witness Group currently manages 28 premium-branded hotels across Virginia, Ohio, and Indiana. For more information about The Witness Group and to contact us with inquiries, visit http://www.thewitnessgroup.com.