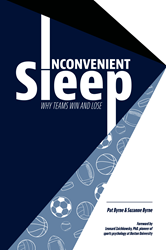 VANCOUVER, B.C. (PRWEB) July 16, 2020
In this engaging and innovative exploration of sleep science, Pat Byrne and Suzanne Byrne offer a comprehensive yet easy-to-read road map to success for athletes and teams—but their knowledge and new ideas are applicable to anyone that sleeps, too. With over ten years of experience implementing sleep and fatigue solutions into professional sports programs, this father-daughter duo discusses the latest sleep research and how it affects performance. Why do our brains trick us into believing we have slept enough even if we haven't? Why is it so difficult to overcome jet lag? The answers are scientific and revealed in this book to be released August 18, 2020.
Points of Interest:

Knowledgeable and Celebrated Experts—Pat Byrne and Suzanne Byrne have worked with sports teams in major leagues around the world including the NBA, NHL, NFL, MLS and AFL, in addition to multiple university, Olympic and national teams. With this experience they offer a fascinating perspective on performance of all types—and how to optimize it for anyone.
Sleep Science: The good, the bad, the fraud—The authors demonstrate how sleep can improve athletic performance, dispel myths that can detract from a good night's sleep and expose misinformation and misleading products that can prevent athletes from obtaining the sleep they need.
Practical Solutions—Professional athletes know how important sleep is, but good sleep is often elusive. The authors make a compelling argument for athletes to approach sleep the same way they approach strength and conditioning: learn the basics, create an individualized program, avoid simplistic solutions, work hard and commit to success. A good formula for anyone that sleeps.
Not Just Data—With a compelling mix of anecdotes and data, this book includes stories from the lives of scientists and athletes to further illuminate the fascinating evolution of sleep science.
PAT BYRNE pioneered sleep and fatigue programs for professional athletes and sports teams in 2008. His science-based approach and practical solutions have proven to increase performance for athletes, teams and workers, globally. His successful track record includes many championship teams across North America and Australia. With over 30 years of experience in health, safety and performance optimization Pat brings a unique and effective approach to fatigue management. He is also a sought-after speaker known for melding science with humour.
SUZANNE BYRNE has been implementing effective fatigue management programs with professional and high performance athletes and teams for over a decade. She is a former NCAA volleyball player and award-winning athlete who coaches volleyball in her spare time. Suzanne studied law at Tulane University Law School and graduated with a sports law certificate. Her experience and education in sports gives her an extensive understanding of sleep and fatigue issues facing athletes and the solutions they need for success.
"Inconvenient Sleep: Why Teams Win and Lose" will be available from Amazon and widely available in eBook format.
For media inquiries or to request a review copy, please contact Suzanne Byrne at suzanne.byrne.sports@gmail.com or at 604-868-4936.