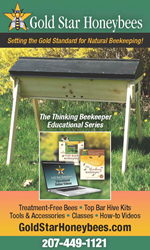 ... if you are keeping your bees in a top bar hive, you'll find information you need here that's not available anywhere else. Both you and your bees will benefit from Christy's approach, advice and philosophy. -- Kim Flottum, Editor Bee Culture Magazine
Waterville, Maine (PRWEB) May 18, 2017
Natural and organic beekeepers have reason to celebrate! Simple and easy to manage, top bar hives have been gaining traction in the US as more and more people become aware of the plight of the honeybee. A top bar hive supports the bees' natural systems inside their hive, as well as making life easier for the beekeeper - since there's no heavy lifting involved.
But learning about this natural beekeeping method has been difficult... until now.
This professionally produced online class will help beekeepers, both new and experienced, learn the management techniques that work best in a beehive where "It's All About the Wax!" Taught by Christy Hemenway, the author of two books on the subject of top bar beekeeping, the goal is to support natural beekeepers with practical, real-life methods and richly detailed information on the "why" of top bar hive management.
Hemenway's dedication to teaching the underlying reasons for bee management is evident in both her books: "The Thinking Beekeeper - A Guide to Natural Beekeeping in Top Bar Hives" and its sequel "Advanced Top Bar Beekeeping - Next Steps for the Thinking Beekeeper."
The class was produced with assistance from a grant from the Eva Crane Trust. The Trust was formed by Dr Eva Crane, who "without doubt became one of the greatest writers on bees and beekeeping in the 20th century. The aim of the Trust is to advance the understanding of bees and beekeeping by the collection, collation and dissemination of science and research worldwide as well as to record and propagate a further understanding of beekeeping practices through historical and contemporary discoveries."
Visit the Gold Star Honeybees website to get started right. There you'll find information and support, along with all the tools you need to keep bees naturally in top bar hives - including bees!
An introductory offer for this comprehensive class is available until June 30, 2017. All six lessons are included for one low price of $49.
To connect with other top bar hive beekeepers - visit our Top Bar Hive Beekeepers group on Facebook!