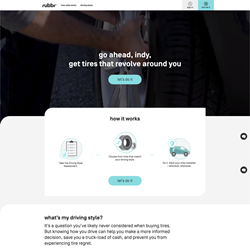 Digital transformation is leaving no industry untouched. SAP Hybris Commerce gives rubbr the solid foundation it needs to deliver the world-class experience today's customers demand, and the flexibility to continue to scale.
Ottawa, ON (PRWEB) August 01, 2017
Thinkwrap Commerce today announced the launch of its latest eCommerce project for new online tire retailer, rubbr(tm).
Built using the industry-leading SAP® Hybris® Commerce solution, rubbr's online webstore is changing the way car owners shop for tires online by offering an alternative to the traditional tire buying and installation process. A seamless online experience guides customers through the entire tire buying journey, from initial purchase to convenient mobile installation.
The rubbr team recognized the need to cater to web-savvy millennials who lack the time and/or technical know-how to shop for and install tires. rubbr makes it easy for consumers to select tires according to their personal driving style, budget and preferences, then schedule a convenient mobile installation service, at a time and place of their choosing.
rubbr.com introduces innovative features, including a driving style quiz, an intuitive tire recommendation engine, an easy-to-use interface, and a friendly, approachable tone. The new site uses an interactive approach to determine each customer's driving style, car make and model, and budget. Once an order has been placed, customers are asked to indicate an installation time and place that is convenient for them.
Thinkwrap leveraged the SAP Hybris Commerce platform to facilitate the communication between the different systems, including the scheduler module, tire recommendation engine, payment gateway, and others. SAP Hybris RESTful API layer (OCC) was used to deliver a stateless site using the React framework for the front-end experience.
"Digital transformation is leaving no industry untouched," says Diego Costa, GM of SAP Hybris at Thinkwrap. "SAP Hybris Commerce gives rubbr the solid foundation it needs to deliver the world-class experience today's customers demand, and the flexibility to continue to scale."
Thinkwrap worked in partnership with rubbr, Jackman Reinvents and Rangle.io to create an intuitive and responsive site that appeals to rubbr's target market of millennials.
Key features include:

Personalized driving style quiz to make choosing the brand and type of tire less intimidating
Tire recommendation engine featuring real-time data
Integrated mobile service scheduling tool
Slick, easy to navigate UI
Voice & tone that appeals to target demographic
The service is available now for residents in the Indianapolis area, and will begin rolling out to additional cities soon.
Consistently rated best in class by Forrester Research and Gartner, SAP Hybris Commerce is the industry leader helping brands to maximize revenue through omni-channel commerce.
To learn more visit: http://www.rubbr.com
About Thinkwrap Commerce
Well-known retail brands turn to Thinkwrap Commerce as their trusted eCommerce system integration partner when they want to grow revenue, increase online and in-store traffic, improve customer experience, grow a loyal customer base, achieve operational efficiencies and higher profits.
From long-term strategic planning and well-architected design through robust development and ongoing optimization, we use the best available technologies to ensure our customers' online success. We connect the online, in-store, mobile, social, call-center and warehouse; delivering a seamless omni-channel eCommerce experience. Thinkwrap Commerce is 100% employee-owned, giving us a vested interest in every client engagement. For more information, visit http://www.thinkwrap.com.
###
SAP, Hybris and other SAP products and services mentioned herein as well as their respective logos are trademarks or registered trademarks of SAP SE (or an SAP affiliate company) in Germany and other countries. See http://www.sap.com/corporate-en/legal/copyright/index.epx for additional trademark information and notices. All other product and service names mentioned are the trademarks of their respective companies.
For further information please contact:
Media Contact
Alyssa Hanson
Digital Marketing Manager
Thinkwrap Commerce
Tel: 613-751-4441 x514
Email: alyssa.hanson(at)thinkwrap(dot)com