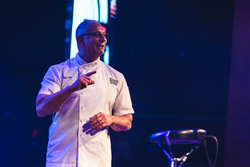 It's an honor to watch Beats 'n Eats grow year after year in support of the brave veterans and military who defend our freedom
PHILADELPHIA (PRWEB) June 12, 2019
On Monday, May 13 at The Fillmore Philadelphia, celebrity chef Robert Irvine hosted the 3rd Annual Beats 'n Eats Food + Music Event – an immersive, one-of-a-kind food and music experience designed to increase opportunities for veterans and members of the military – raising over $255,000 (up over 400% from last year) for the Robert Irvine Foundation.
"It's an honor to watch Beats 'n Eats grow year after year in support of the brave veterans and military who defend our freedom,' said Chef Robert Irvine. "Thanks to all the chefs, entertainers and guests who attended to help us quadruple the funds raised for the Robert Irvine Foundation. I can guarantee that this will directly impact the lives of veterans and members of the military throughout the year. I can't wait to see what next year brings!" 
Presented by Comcast Business and Penn National Gaming, the unforgettable evening featured a family style, six-course meal prepared by local and celebrity chefs including Andrew Zimmern, Buddy Valastro, Cat Cora, Jose Garces, Kevin Sbraga, and Marcie Turney, as well as live music performances from Ryan Cabrera, The Potash Twins, Rahzel, and Zeek Burse between each course. An exclusive after party presented by Patron Spirits featured a dessert reception, draft lattes by La Colombe, a custom donut wall installation by Chef Matt Fein (Executive Chef, Federal Donuts), live music and spirits-infused sweets. Over 425 guests attended including Malcolm Jenkins, Todd Carmichael & Lauren Hart, Todd & Elizabeth Herremans, and Nelson Agholor. 
Beats 'n Eats is returning to Philadelphia on May 18, 2020 and is expanding to Los Angeles in 2020. To stay informed, visit http://www.beatsneats.co.
LINK TO SELECT IMAGES: https://www.dropbox.com/sh/yz6iebsje3kgq3x/AABw9FlCvLDXYo9of7PNIpJba?dl=0
About Robert Irvine
With over 28 years of culinary experience around the world, award-winning Chef Robert Irvine is best known for hosting some of the Food Network's highest rated shows including Restaurant: Impossible and Dinner: Impossible. Currently, Irvine is on tour with Robert Irvine: Live—an interactive culinary experience—hosts a video recipe series on BodyBuilding.com, and is a regular guest on national daytime shows. Irvine is the author of Impossible to Easy and Mission: Cook, gourmet cookbooks for home chefs, Fit Fuel, a healthy living guide and Family Table, a balance and nutritional guide for families. In 2013, Irvine launched FitCrunch protein bars, brownies and powders followed by Robert Irvine Foods, a line of nutritional food products, in 2015. A tireless supporter of the nation's military, Irvine established The Robert Irvine Foundation in 2014 to support veterans and military causes. Irvine is the first celebrity chef to open a restaurant, Robert Irvine's Fresh Kitchen, in the Pentagon in 2016. In 2017, Irvine opened a Gold's Gym franchise in Largo, Florida and Robert Irvine's Public House offering elevated pub fare at the Tropicana Las Vegas as well as teamed with Boardroom Spirits as co-owner to provide 'better for you' spirits. For more information on Chef Robert Irvine, visit ChefIrvine.com.
About Robert Irvine Foundation
Irvine established the eponymously named non-profit organization, The Robert Irvine Foundation, as a primary focus on giving-back and supporting our military personnel (active, retired, and veterans) and first responders through morale and welfare programs, in addition to financial support of properly vetted Veterans' Organizations and directly to individuals and families in need. For more about the Robert Irvine Foundation, visit http://www.RobertIrvineFoundation.org.