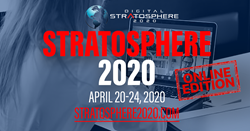 DENVER (PRWEB) April 17, 2020
In light of the ongoing global COVID-19 health and economic crisis, Third Stage Consulting Group announced that the 2020 Digital Stratosphere Conference will be hosted virtually, and all registration fees will be waived. Normally a $950 value, this world-class online event – the first and only technology-agnostic conference of its kind – combines expert education and peer networking into a unique conference format. The event will take place on April 20-24, 2020.
"More than ever, organizations across the world are craving direction and ideas on how to navigate their transformations in this post-coronavirus reality that we are living in," said Eric Kimberling, CEO of Third Stage Consulting Group and keynote speaker at the Digital Stratosphere conference. "Most organizations are being forced into transformation whether they like it or not, so we are addressing an important need in the market."
The event will leverage content provided at the five-star rated, in-person Stratosphere conference series. Sessions will be tailored for online delivery and feature relevant topics in order to address current events, including:

How to develop strategies for your transformation in light of today's realities
What to do while your project is slowing down or on hold
How to transform your supply chain to navigate today's environment
How to negotiate (or renegotiate) with vendors in light of current events
How technology is creating opportunity during uncertainty
How human capital and change management can be used for keys to success
Much more!
This event is designed for people about to embark on any digital transformation initiatives, whether it be an SAP S4/HANA, Oracle Cloud, Microsoft Dynamics 365, or other type of ERP, CRM, HCM, or supply chain implementation. It is also targeted to organizations that are further along in their journeys but could benefit from additional thought leadership and redirection.
In addition to providing world-class education, the Digital Stratosphere event will also provide peer networking and case studies from other organizations that are navigating today's turbulent health and economic environment.
"There is no substitute for learning from the experience of others," said Kimberling. "This platform provides a unique opportunity to share and exchange invaluable best practices – which is especially important in today's ever-changing business landscape."
Those that are interested in Digital Stratosphere can register or learn more here: http://resource.thirdstage-consulting.com/stratosphere-2020-online-conference.
About Third Stage Consulting: Third Stage was founded with the vision of providing unparalleled experience, thought leadership, and toolsets to help clients launch into the Third Stage of ERP Software. We specialize in helping clients select, implement, and manage organizational changes related to their ERP software and digital transformation initiatives. Learn more about Third Stage at thirdstage-consulting.com.
###