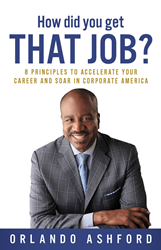 "I'm delivering rules and tools for how you can navigate your career and try to drive personal, success, however you define success."
SEATTLE (PRWEB) October 12, 2020
People who land their dream jobs see a lifelong career path paved by hard work and rewarded with financial security to last their lives. That should be the end of the story but it isn't, according to Orlando Ashford, a successful African-American business executive and author of the new book "How Did You Get That Job?: 8 Principles To Accelerate Your Career and Soar In Corporate America" published by Fig Factor Media Publishing.
To Ashford, the former Holland America Line president and currently a strategic advisor with Sycamore Partners, a New York-based private equity firm, it's only the beginning. His book is about giving people steps to envision what their careers and successes should be on their terms.
"I'm delivering rules and tools for how you can navigate your career and try to drive personal, success, however you define success," said Ashford, who also drew upon his extensive experience in human resources for this book. "I paint a picture of a vision of what you want to do as you build your community, your personal board of directors, your mentors, your sponsors, and building your brand and delivering results."
Together with personal moving stories and life lessons, readers learn eight specific principles such as preparing for the corporate world, being a culture builder through storytelling, and building your personal brand. The most important to him is the cornerstone of the journey: envision your future. While growing up, Ashford found an example in actor Blair Underwood's portrayal of an African-American lawyer in the late 1980s drama called "L.A. Law."
"He was young, energetic, smart, brash, and wore cool suits," Ashford said. "I liked that picture and I thought that when I grew up, I want my voice to carry power and influence and have that powerful look. I didn't become a lawyer; I became a consultant, but it started with that picture. Then I needed to figure out things that I needed to do to allow me to have the type of career to allow me to look and live like that."
In addition to the principles, Ashford teaches readers about the idea of having multiple "chessboards." For example, Ashford has his primary job while other boards describe alternative areas of interest such as writing and public speaking. These boards make people well rounded and give them additional experiences to use if something should happen.
"I find if you play multiple boards such as your primary area of expertise and other boards that bring you joy, income, or intellectual challenge, these make you more confident and effective in your primary chessboard," he said.
No one could ever foresee the devastating effects that COVID-19 left in the corporate world: a seismic upheaval where remote work, Zoom meetings, and social distancing are the order of the day. Ashford sees this situation forcing people to reflect and assess their lives as they find a work/life balance.
"I think we have all been afforded with an opportunity to ask ourselves some different questions," he said. "Maybe you had or never had a vision for your career. Maybe you were working and the COVID-19 pandemic has presented an opportunity to create a new vision to where you can ask yourself: 'How do you see your career and life playing out moving forward?' I don't think we're all going to want to go back to the office five days a week, but I also think people don't want to sit in their house forever. There's going to be something in between those scenarios. We have proven that we can work from home and get the job done, so this creates new options for us to consider."
"How Did You Get That Job?" published by Fig Factor Media Publishing is available on Amazon.
About "How Did You Get That Job?"
Thirty-year corporate veteran Orlando Ashford explores the "tools and rules" one can use to help maximize their career journey. Drawing from his depth of experience and illustrating concepts with personal stories, Ashford walks the reader through the key elements of building a successful career, including: creating a career vision, taking calculated risks, delivering results, building a career community, a culture or one's personal brand. Inside, Ashford also explores the power of being different and how to harness our individual and unique "genius" to create a competitive advantage in the workplace and in life.