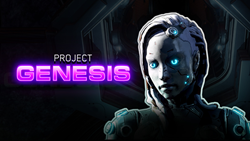 SEATTLE (PRWEB) April 15, 2021
Project Genesis, a team based space combat FPS genre mashup, will release its Hercules milestone on April 13, 2021. The Hercules milestone marks the eighth pre-alpha update for the Steam early access title.
Relish the chaos of two simultaneous game genres in this Sci-Fi PVP Shooter. Project Genesis, the flagship title of 8 Circuit Studios is designed with the FPS player in mind. Although Project Genesis leverages the FPS player's core skill sets, players will be challenged as the traditional ground combat environment is augmented by space theater warfare. The controls are specifically designed for a seamless transition between space combat and close quarters FPS battles, blending the exhilarating game genres into a high-octane experience.
Project Genesis ushers in sweeping changes and additions to the title with the release of the Hercules milestone. Customization finds its home in Project Genesis, giving players a multitude of options to create and apply signature looks to battle craft and Avatars. Pilots can also customize kill cards from a vast library of emblems and backgrounds that will appear on the heads up display of both teammates and opponents upon completion of important accomplishments in-game.
The Hercules milestone includes updates to the existing battle craft arsenal and introduces over 20 new weapons that are available to players across many of the battle craft in Project Genesis. Additionally, the Hercules milestone introduces an experimental Player vs Environment game mode. Pilots new to Project Genesis can familiarize themselves with the core mechanics of the game, while veteran Pilots can transfer their prowess to newly-acquired AI combatants.
With hundreds of other features and quality of life improvements coming to Project Genesis in the Hercules milestone, this build is poised to significantly enhance gameplay experience and propel the title to new heights within the cosmos.
Project Genesis pushes the boundaries of traditional shooter and space genres, creating an immersive experience that plunges the player into a futuristic and visceral environment that synthesizes the two landscapes effortlessly. From frenetic dogfights in battle craft to feverish FPS combat, Project Genesis transforms the space combat domain.
Secure your copy of Project Genesis today and enter the captivating, deep-space terrain: https://store.steampowered.com/app/700240/Project_Genesis/
For the latest, up-to-date news connect with 8 Circuit Studios on Discord, Twitter, Facebook, Medium, and YouTube.
About 8 Circuit Studios
8 Circuit Studios is a new independent game development company started by the collaboration between new and veteran game developers, some of which have worked on titles like Super Mario World, Age of Empires, Mech Warrior IV, F.E.A.R. 2, World of Tanks, Shadow of the Tomb Raider, and Halo 5.