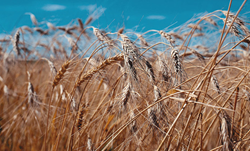 KAMUT® Brand khorasan wheat resistance to drier conditions makes it well suited to meet the needs of producing quality nutrition despite risks of climate change and greater scarcity of water resources
MISSOULA, Mont. (PRWEB) April 06, 2021
In alignment with the 2021 Earth Day theme, "Restore our Earth," Kamut International sees that a change of the current food system, from high industrial and chemical based, to regenerative organic, is necessary to restore the quality of our food and combat climate change. Regenerative organic farming not only replaces the use of chemical and harmful pesticides that can pollute soils and waters, it can also help undo the effects of this kind of pollution and combat climate change, while helping communities and farmers prosper.
With increasing average temperatures resulting from greater accumulation of greenhouse gas emissions in the atmosphere, the world has been experiencing more frequent extreme weather events such as droughts, floods, other irregular patterns of precipitation, and heat waves. The forecast is that some parts of the United States will continue experiencing more extreme conditions in 2021 and beyond.
Bob Quinn, founder of Kamut International, and a pioneer of regenerative organic farming in the 1980's, after transitioning his Montana family-farm to a system based on increasing biodiversity and naturally fertilized topsoil, believes that regenerative organic agriculture is more important than ever, because, among other things, it is key to combating the effects of climate change. Additionally, "Organic systems are diverse, and by definition they are designed for resilience and adaptation to different conditions."
In the case of KAMUT® Brand khorasan wheat, this is an ancient grain known for being less susceptible to environmental stress than common wheat, and for having a special tolerance to drought conditions. "KAMUT® Brand khorasan wheat's resistance to drier conditions makes it well suited to meet the needs of producing quality nutrition despite risks of climate change and greater scarcity of water resources," says Kamut International President, Trevor Blyth.
Through many decades of work researching alternatives to the problem of industrial agriculture and industrial food production in the U.S., Bob Quinn discovered that through time-tested practices like cover cropping and crop rotation, he could produce successful yields—without pesticides. Furthermore, he realized that regenerative organic farming allowed him to grow fruits and vegetables in the colder, dryer climate of Montana without irrigation, providing a source of local produce to families in his hometown. Quinn memorialized this and many other learnings in his book, Grain by Grain: A Quest to Revive Ancient Wheat, Rural Jobs, and Healthy Food.
Kamut International has been at the forefront of regenerative organic agriculture for 35 years and is committed to promoting "food as medicine" and organic farming for the health of people and the planet. This guides the company in their mission to feed people with healthy and nutritious food, as well as contributing to improving the health of our planet.
About KAMUT® Brand Khorasan Wheat
From 36 kernels and legends of discovery in an Egyptian tomb, today KAMUT® Brand khorasan wheat, an ancient grain, guaranteed under the KAMUT® Brand, to never be hybridized or genetically modified, always organically grown, prized for its nutrition, ease of digestibility, sweet nutty-buttery taste and firm texture, can be found throughout the world in products including breads, pasta, pizza, cereals, snacks, pastries, crackers, beer, green foods, and cereal drinks.
Media, please contact Giselle Chollett: giselle@adinnyc.com, 917.386.7116.