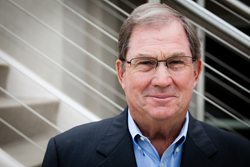 VIRGINIA BEACH, Va. (PRWEB) November 25, 2018
Ted and Gail Wille have invested $10,000 with ORPHANetwork, providing a matching gift for the non-profit organization's Caring Through The Crisis #GivingTuesday campaign. "Giving Tuesday provides an opportunity each year where individuals that work hard, stop their daily lives for a brief moment and give of themselves to help someone else," Wille adds, "And that feels good!"
"I invest in ORPHANetwork because it is a high-impact organization, rescuing and changing the lives of children in Nicaragua through the local church." Wille continued, "They have a four-star Charity Navigator rating because they measure everything they do, and they get results for the children by eliminating malnourishment, providing after-school education and job skills so that cycles of poverty can be broken."
Wille invested his talents in the world of healthcare for decades. With two Master's degrees and vast industry experience, he served as the Chief Operating Officer of AMERIGROUP Corporation for seven years. Prior to AMERIGROUP, he served as a Vice President for Sentara Health System and President of Optima Health. For the past 14 years, Wille has served ORPHANetwork as its Board Chairman, utilizing his business development acumen and his passion for serving those in need, to guide the faith-based organization to expand its reach to 20,000 vulnerable and orphaned children in Nicaragua.
About ORPHANetwork's #GivingTuesday campaign:
ORPHANetwork's Caring Through The Crisis goal is to raise $40,000 to ensure its programs can continue to provide Hope and a Future to the 20,000 orphaned and vulnerable children they serve. On April 18, 2018, protests against social security reform unexpectedly brought the peace and progress Nicaragua had experienced over the past few decades to an abrupt halt. Today more than 200,000 people are without jobs in what was already the poorest Spanish-speaking country in the world. Thanks to Mr. Wille's investment, all gifts up to $10,000 are matched now through November 27th.
About #GivingTuesday:
#GivingTuesday is a global giving movement that has been built by individuals, families, organizations, businesses and communities in all 50 states and in countries around the world. This year, #GivingTuesday falls on November 27. #GivingTuesday harnesses the collective power of a unique blend of partners to transform how people think about, talk about, and participate in the giving season.