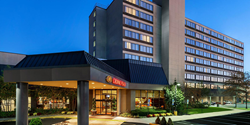 We want people to be able to have a really nice, high-end event experience at an affordable cost, and more than anything we want people to be safe this holiday season
ENGLEWOOD, N.J. (PRWEB) November 30, 2018
The Crowne Plaza Englewood is offering a new service that aims to reduce drunk driving in the evening after holiday parties AND help the partygoers get to work on time the next morning.
"We are launching a special package that includes shuttle service for the evening of our guests' corporate and social holiday parties, as well as shuttle service to work the next morning, a $5 credit to The Crowne Market at our hotel, a 'Rejuvenation Package' and a free coffee," said Dan Conte, General Manager.
While the newly renovated hotel offers event space to host corporate and social holiday parties on-site, the shuttle service and rejuvenation package are not limited to guests of hotel events.
"We are partnering with local restaurants to provide our Rejuvenation Package to groups who book their holiday events at the restaurant, and we will be offering our shuttle service and overnight accommodations to those groups," Conte said. "Adding this service to our own events and partnering with local restaurants has been the focus of our efforts to help guests drive responsibly and help people get to work on time the next day, but the Rejuvenation Package is open to anyone who wants to book it on their own, too."
The Crowne Plaza's shuttle will travel within a 5-mile radius of the property in New Jersey.
"Several restaurants have already partnered with the Crowne Plaza to offer this package and we have been working with some of them informally for years," Conte explained. "A lot of people from our hotel go to these restaurants, our shuttle already goes there, and we are the hotel of choice for many of them."
The Crowne Plaza Englewood recently completed a $6 million renovation to all 194 guest rooms, its restaurant and public spaces. The hotel also secured a new partnership with a special events company to provide high-end equipment rentals to further enhance the hotel's 5,000 square feet of event space, which can accommodate up to 250 people.
"We are seeing a trend in event guests looking to stay over after parties – whether its holiday parties, or recently we've seen the bar/bat mitzvahs that we have been hosting lately turn into large group sleepovers," Conte added. "We want people to be able to have a really nice, high-end event experience at an affordable cost, and more than anything we want people to be safe this holiday season. So, even if our shuttle doesn't reach your party, we encourage partygoers to consider using another ride service to help them get here or wherever their destination may be."
To learn more about events at the Crowne Plaza Englewood or the Rejuvenation package, visit http://www.cpenglewoodhotel.com or call (201) 871-2020.