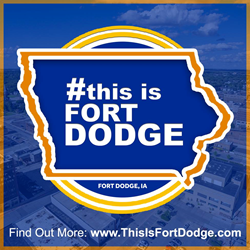 "The entire community branding campaign is based on the use of the hashtag #ThisIsFortDodge to expand the reach through our digital world," states Cheryl O'Hern, Marketing Coordinator with Spin Markket.
Fort Dodge, IA (PRWEB) July 23, 2018
"Thanks for sharing with hashtag #ThisIsFortDodge" is a familiar comment that can be found at this community branding campaign providing a fresh and exciting look to the world while demonstrating what Fort Dodge, Iowa has to offer. It entertains and provides information for those looking for new career opportunities, entrepreneurs seeking a growing community to open their business or expand a current one and artists seeking a welcoming community to create and dream.
A series of four stories in 2018 will be added to the previous stories that kicked off in 2016 with a simple concept. Tell a story about the Fort Dodge, Iowa community, and region by showing all that is offered through the use of digital marketing and a strategically designed marketing campaign.
The story themes include the first earlier this year on Housing, Construction and Career Opportunities in the community. Entitled "#ThisisFortDodge: A Great City with Great Opportunities" contains videos and information on five businesses located in the area. Nestle Purina, CEC Electric, Eastwood Realty LLC, Manpower and Shimkat Motor Company. Each share stories on the growth of their individual businesses and that of the region.
A second story is just wrapping up and will focus on the quality of life of the community. Here readers will see videos and interviews from Soldier Creek Winery, Woodruff Construction, Main Street Fort Dodge, Community Health Center of Fort Dodge and Clay & Associates DDS, PLC. When released it will be online and promoted through a diverse marketing base of various digital mediums. Strategically targeting families and businesses looking for communities that encourage a quality of life they are actively seeking to emulate.
Releasing of the third story is scheduled for the latter part of August or the first part of September. Education, Healthcare, and Community will be the thematic focus of this story with videos and information on area schools such as Fort Dodge Community School, St. Edmond Catholic School, and Iowa Central Community College.
The fourth story of the year will be released just in time for the holiday shopping season. It will feature videos and interviews on #ShopSmall, #ShopLocal with various retail and businesses discussing shopping opportunities in the region.
With the stories, you can also follow daily events on the ThisIsFortDodge website, Facebook, Twitter and YouTube. The entire community is encouraged to add the hashtag #ThisIsFortDodge to their social media posts to carry the campaign even further in the social world that we live in today. TV commercials and streaming of the commercials adds another level of marketing with the same branding theme carried throughout.
"The entire community branding campaign is based on the use of the hashtag #ThisIsFortDodge to expand the reach through our digital world," states Cheryl O'Hern, Marketing Coordinator with Spin Markket. "We center on a variety of businesses throughout the community that really shows what Fort Dodge has to offer and how far we have grown over the last ten years or so. It is truly a community branding campaign that everyone can, and is encouraged to use, to promote their business and organization. Everything is specifically designed to easily be linked to their various digital marketing mediums along with linking back to the six online stories and #ThisIsFortDodge. It just continues to flow as we add more stories, posts, and information. That is why it has been so successful."
Additional information on #ThisIsFortDodge is available at http://www.thisisfortdodge.com or calling 515-302-8026. The community branding campaign is a sponsored program by area businesses and individuals with Spin Markket acting as the central coordinator of the project. Follow online posts and videos on Facebook, Twitter, and YouTube.